1640 - Origins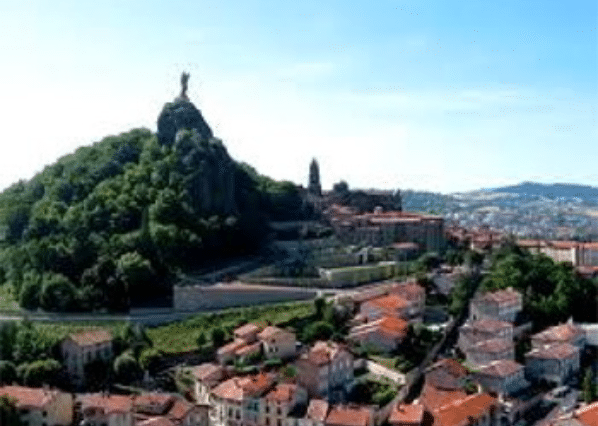 The Sisters of St. Joseph originated in Le Puy-en-Velay, France during a time of social, religious, political, and economic hardship. Six women and a Jesuit priest worked to meet the needs of the people and witness to a unifying love of God and neighbor. They lived without cloister or habit and served the "dear neighbor" by doing whatever was necessary. Their names were Françoise Eyraud, Clauda Chastel, Marguerite Burdier, Anna Chaleyer, Anna Vey, Anna Brun, and Jean Pierre Médaille, SJ.
1650 - Formal Foundation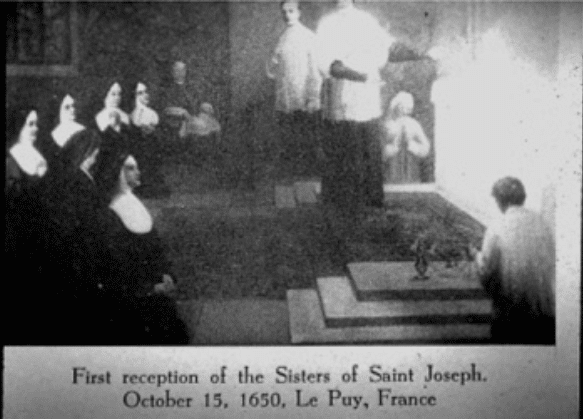 Bishop Henri de Maupas of Le Puy recognized these women as a religious congregation in 1650. The Sisters of St. Joseph celebrate their foundation as October 15, 1650.
1789 - French Revolution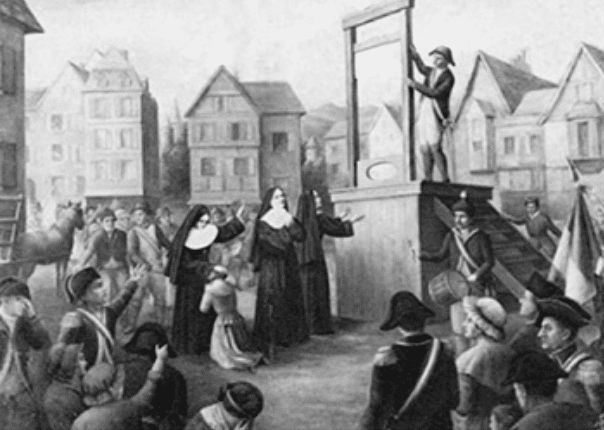 During the revolution, religious orders were suppressed, their members dispersed or put into prison, and their properties taken by the state. During the Reign of Terror in 1793-94 religious and clergy were forced to take an Oath of Allegiance and to recognize the national religion Those who refused risked their lives; at least five Sisters of St. Joseph were martyred at the guillotine. In 1793, the Congregation was disbanded.
1807 - Refounding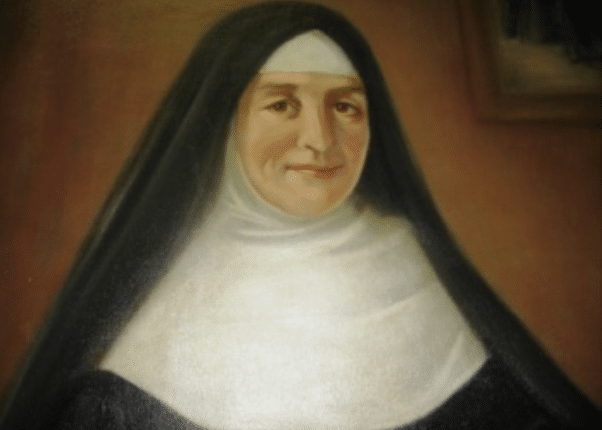 A young sister, Jeanne Fontbonne, had been imprisoned at Saint-Didier-en-Velay and sentenced to be guillotined. The government fell the day before her execution. She became known as Mother St. John and refounded the Sisters of St. Joseph in Lyon on August 15,1807. Sisters that had lived in independent communities were centralized, went to a formal novitiate and adopted an industrial model. By the time of her death in 1843, there were 244 convents in France under one central Motherhouse.
1836 - Carondolet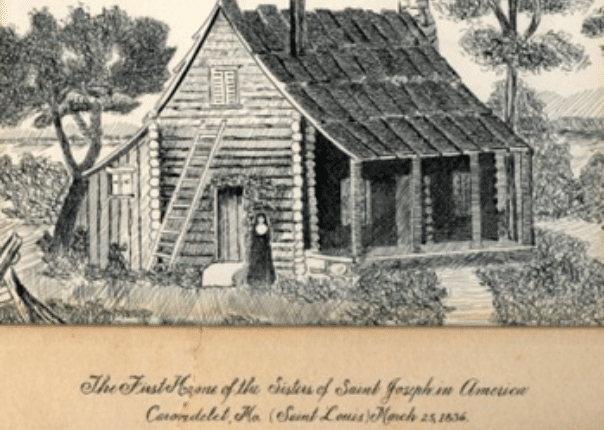 On March 6, 1836, six Sisters of St. joseph arrived in St. Louis, Missouri to respond to the request of Bishop Joseph Rosati for sisters to teach in his new diocese, They started a school in a log cabin in Carondolet and were joined by two other sisters who came to teach deaf children. From that small beginning, Sisters of St. Joseph spread throughout the United States.
1856 - St. Mary's Brooklyn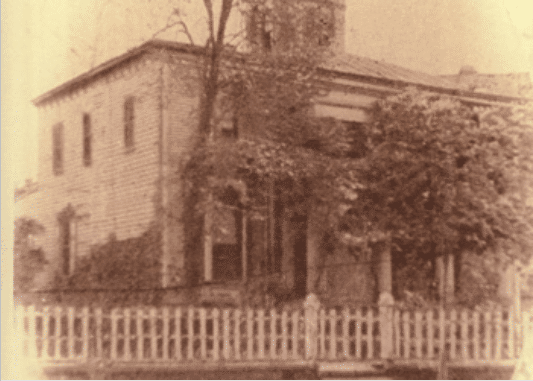 In 1856, at the request of the Bishop of Brooklyn, Mother Austin Kean came from Philadelphia to Brooklyn to found what is now the Sisters of St. Joseph of Brentwood, New York. She was accompanied by Sister Baptista Hanson and Sister Theodosia Hagemann from Buffalo. They founded their first school in St. Mary's parish on Maujer Street in Williamsburg, Brooklyn
1860 - Flushing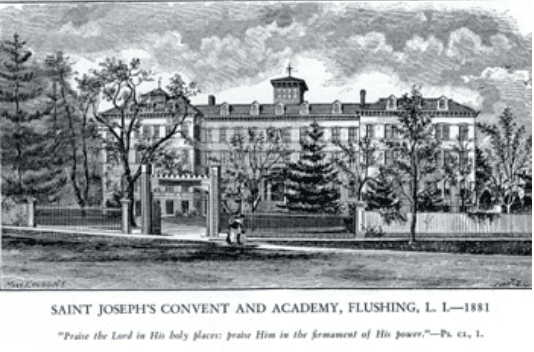 The community grew so quickly it was necessary to find space for a new Motherhouse and the Academy. In 1860 Mother Austin transferred the Motherhouse, novitiate, and Academy to the former Episcopal St. Thomas Hall at the corner of Jasmine and Sanford Avenues in rural Flushing.
1869 - 1883 New Foundations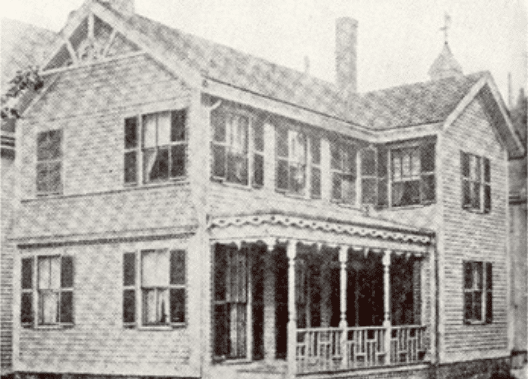 The congregation continued to grow and expand. Sisters were sent to found new congregations in Baden, Pennsylvania in 1869; Rutland, Vermont and Boston, Massachusetts in 1873; and Springfield, Massachusetts in 1883.
1891 - St. John's LIC Hospital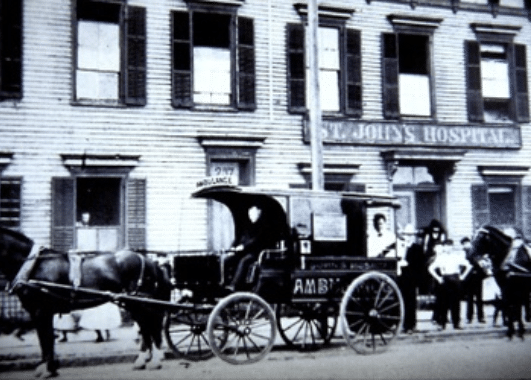 Bishop John Loughlin requested that the Sisters administer a hospital for the population of the Brooklyn Diocese. Employees of the Long Island Railroad and local factory workers donated their labor to renovate the buildings purchased by the Bishop into a two-story hospital building and a hospital convent for the sisters. When it opened on May 23, 1891, St. John's Hospital became the first institution for the care of the sick in the northwest area of Queens.
1896 - Brentwood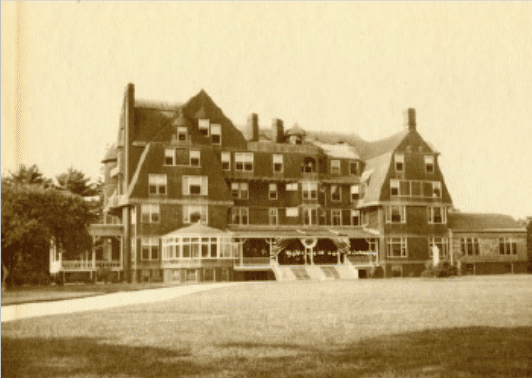 The 125-room Austral Hotel, the Pearsall House and other buildings on a 350-acre property in Brentwood were listed for sale. The Sisters were again in need of additional space and after visiting the estate, Mother Mary Louis purchased the property for the Sisters of St. Joseph in February 1896.
1903 - Brentwood Motherhouse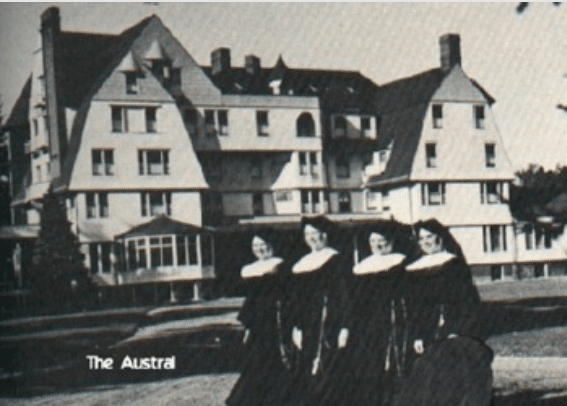 The Austral Hotel became the Motherhouse and novitiate and the Pearsall House became a chaplain's residence. Saint Expedite Cottage, another former hotel building, became the Academy Infirmary. The Academy Building, also known initially as St. Charles Hall, was completed in 1903 and opened to its first academic class on June 1. Meanwhile in Brooklyn, St. Joseph Commercial HS was founded in 1904.
1916 - St. Joseph College for Women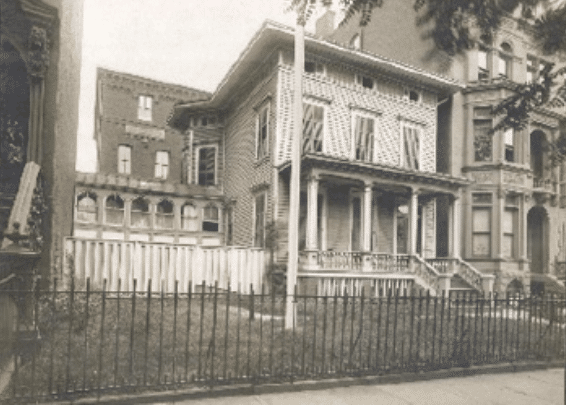 In 1916 at the request of Bishop McDonnell Mother Mary Louis sent sisters to establish St. Joseph College in the Clinton Hill section of Brooklyn. From its first class of 12 students, the college expanded and a decade later enrollment had increased to over 200 students. At the secondary school level St. Angela Hall Academy had been founded in 1906.
1929-33 - St Joseph Convent and Sacred Heart Chapel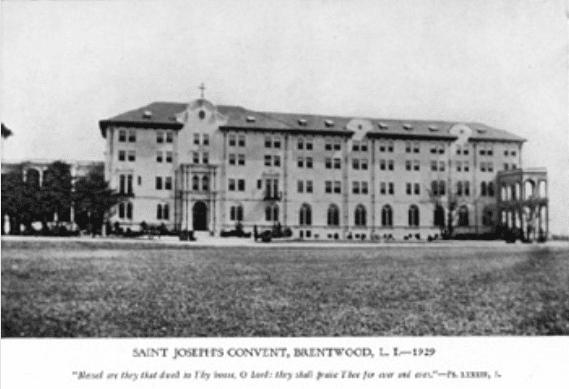 Mother Mary Louis continued with plans for expanding the Brentwood campus to include a new convent and central chapel. Ground was broken for both buildings on March 19, 1927. The convent opened on January 15, 1929. Sacred Heart Chapel was dedicated on April 18, 1933.
1930 - Puerto Rico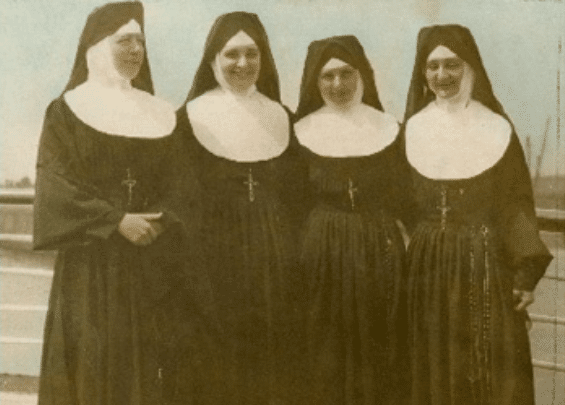 In response to the request of Bishop Willinger of Ponce, Puerto Rico, on July 31, 1930 four sisters were sent to found a mission in San Germán. Within a few years, missions were established at San Luis in Lajas and San Jorge in Santurce. This initiative grew and at its highest point, sisters taught in the Catholic University in Ponce, at Academia María Reina founded as a secondary school for girls, and in several parish schools. There were almost 100 sisters on the island.
1930 - 1960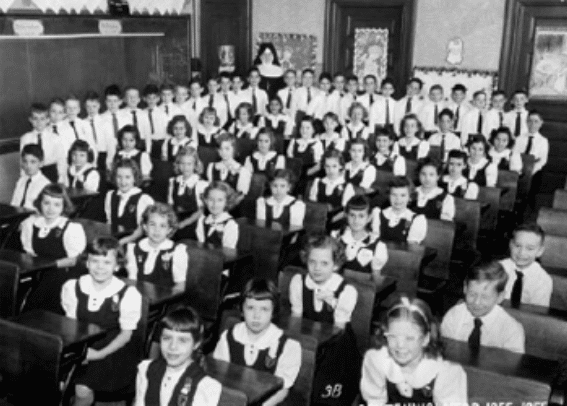 The congregation's reputation in education and parish ministry spread. As the Catholic population grew, Sisters of St. Joseph were increasingly asked to staff schools and parishes. More congregationally owned schools were also opened: St. Joseph Juniorate, 1931; The Mary Louis Academy, 1936; Fontbonne Hall Academy, 1937; Stella Maris H.S., 1943; Sacred Heart Academy, 1949; and Academia María Reina, 1967.
1955 - Brentwood College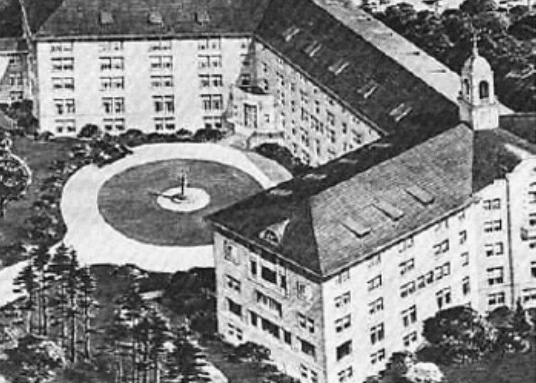 Brentwood College, a novitiate college, opened on the Motherhouse campus in 1955 to improve the pre-service and in-service professional and apostolic training of women religious.
1960 - St. Francis de Sales School for the Deaf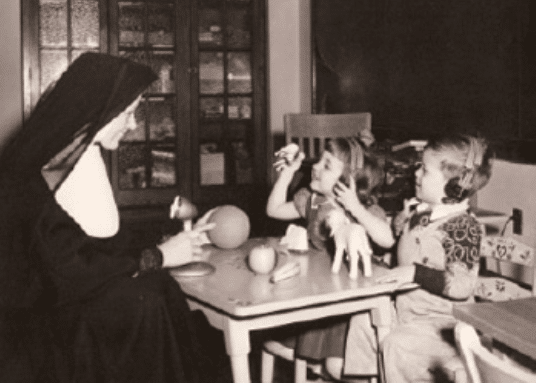 St. Francis began with four children in 1960 in a convent in Flushing, New York. In 1963, the school moved to the Park Slope section of Brooklyn in order to accommodate more students. In 1965, St. Francis became a private state supported 4201 School.
1965 - Sisters March with Dr. King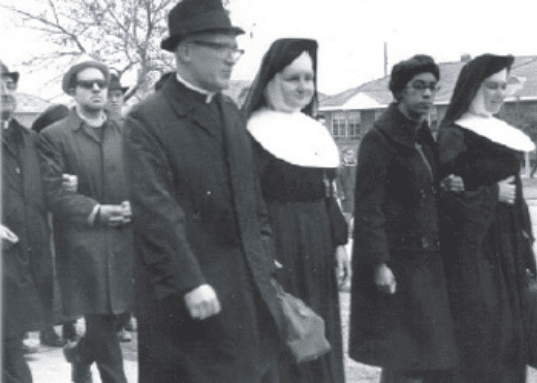 With the support of Mother Immaculata Maria, Sister St. Thaddeus and Sister Maria Eucharia joined Martin Luther King's march in Selma, Alabama. Although this was controversial at the time and provoked some backlash neither the Sisters or the leadership of the congregation vacillated in the support of racial justice.
1968 - Renewal Chapter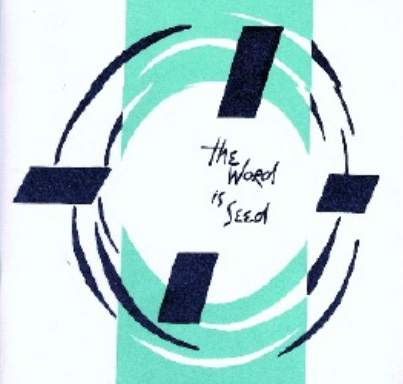 Sisters responded to the directives of Vatican II. A new vision of living out religious life was published in The Word Is Seed. The congregation was divided into five regions and a Sisters Forum was formed to provide participation in decision making. Sisters experimented with small group living, wore a modified habit, and began to wear secular dress on "rare occasions." During this time Maria Regina Convent was opened and the property at Hampton Bays was purchased. Bishop Kearney H.S. was acquired from the Brooklyn Diocese.
1970 - Change and Expanded Ministry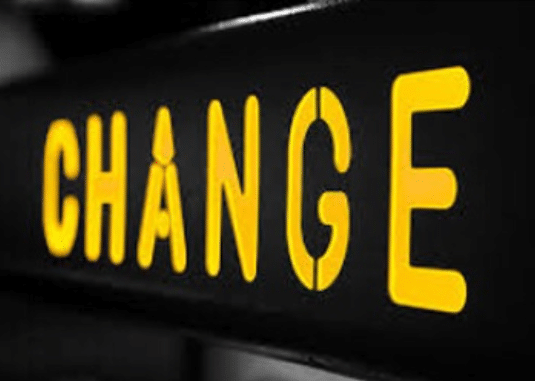 After 1968 ministries expanded and sisters left school positions to fill ministerial positions in areas of justice, immigration, prison ministry, and social services. Sisters went to Appalachia, the Dominican Republic, Brazil, and other dioceses in the United States. In the summer of 1969 a team of Sisters from several Joseph communities was sent to France to study the primitive documents of the congregation in their original language.
1979 - Providence House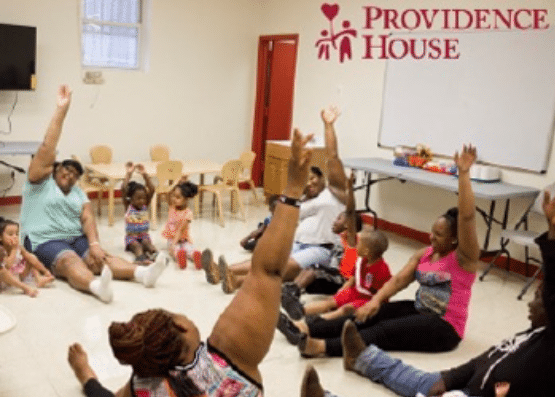 Providence House, which offers transitional housing and support to homeless, abused, and formerly incarcerated women and their children, was founded in 1979. Providence House provides women and children in crisis with shelter, food and security as well as support services to help them transition to independence.
1994 - The CSJ Learning Connection
Founded in a vacant dorm of the Academy of St. Joseph, The CSJ Learning Connection provides educational opportunities for the empowerment of women who are undereducated, lack a high school diploma, or speak languages other than English.
1995 - Hour Children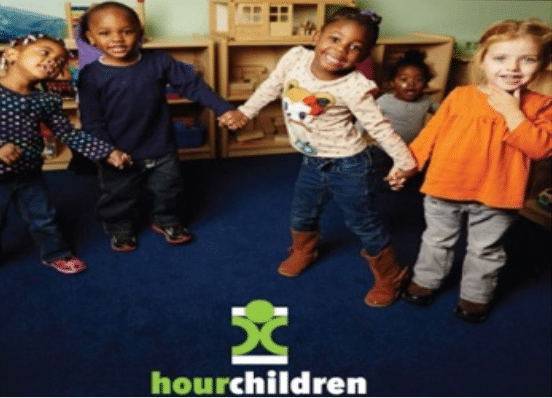 The mission of Hour Children is to help incarcerated and formerly incarcerated women and their children successfully rejoin the community, reunify with their families, and build healthy, independent, and secure lives.
2015 - Land Ethic Statement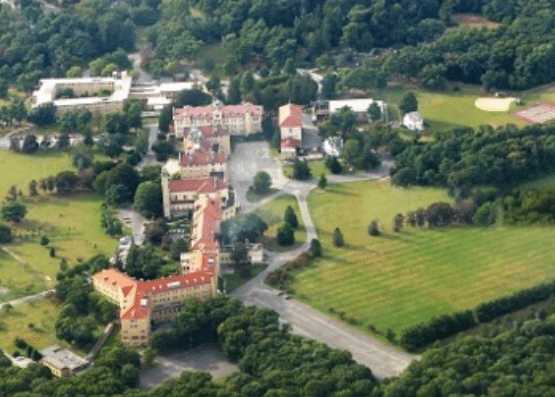 The congregation considers itself as holding land in a sacred trust and as responsible to work for the ecological health of our earth. In accord with this a land ethic statement was developed and affirmed which will protect the Brentwood lands and other holdings now and into the future.
2016 - Agriculture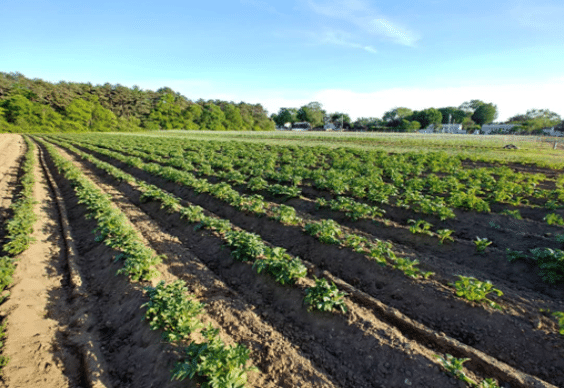 We worked with Suffolk County to preserve the land and to return it to agriculture. Parcels of land have been leased to farmers and the fields were restored for food and seed production. The vegetables grown here are organic and are available at a farm stand for purchase by the local community.
2018 - Solar Energy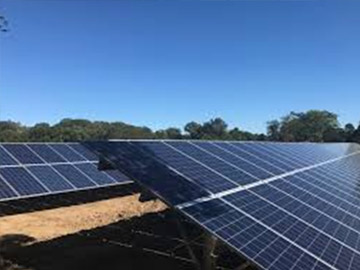 In response to our Land Ethic Statement, the congregation partnered with organizations interested in promoting clean, sustainable energy use and generation on Long Island. With a desire to control energy costs, reduce the environmental footprint, and move toward energy independence we installed a ground mounted solar array system on the Brentwood property. The 1MW system (3,192 panels) will supply approximately 63% of current campus energy usage.It is the largest privately owned solar array on Long Island. Since January (2018) the system is operative.
2019 - Land Easement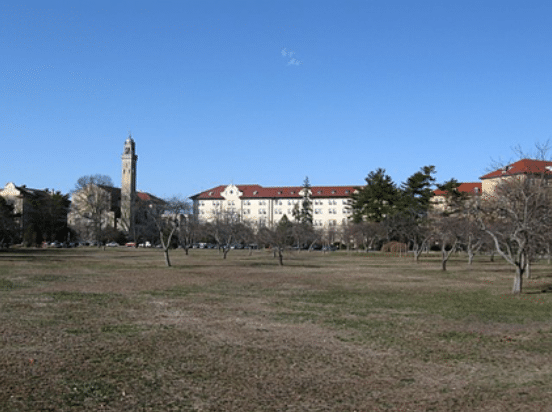 The Sisters of St. Joseph worked with the Peconic Land Trust to preserve parcels of the Brentwood campus and return it to agricultural production. Twenty-eight acres of land are leased to several farmers enabling the fields that once were a working farm to be restored to farming. Woodlands and other parts of the campus will be preserved in perpetuity moving forward.
2020 - Agrégées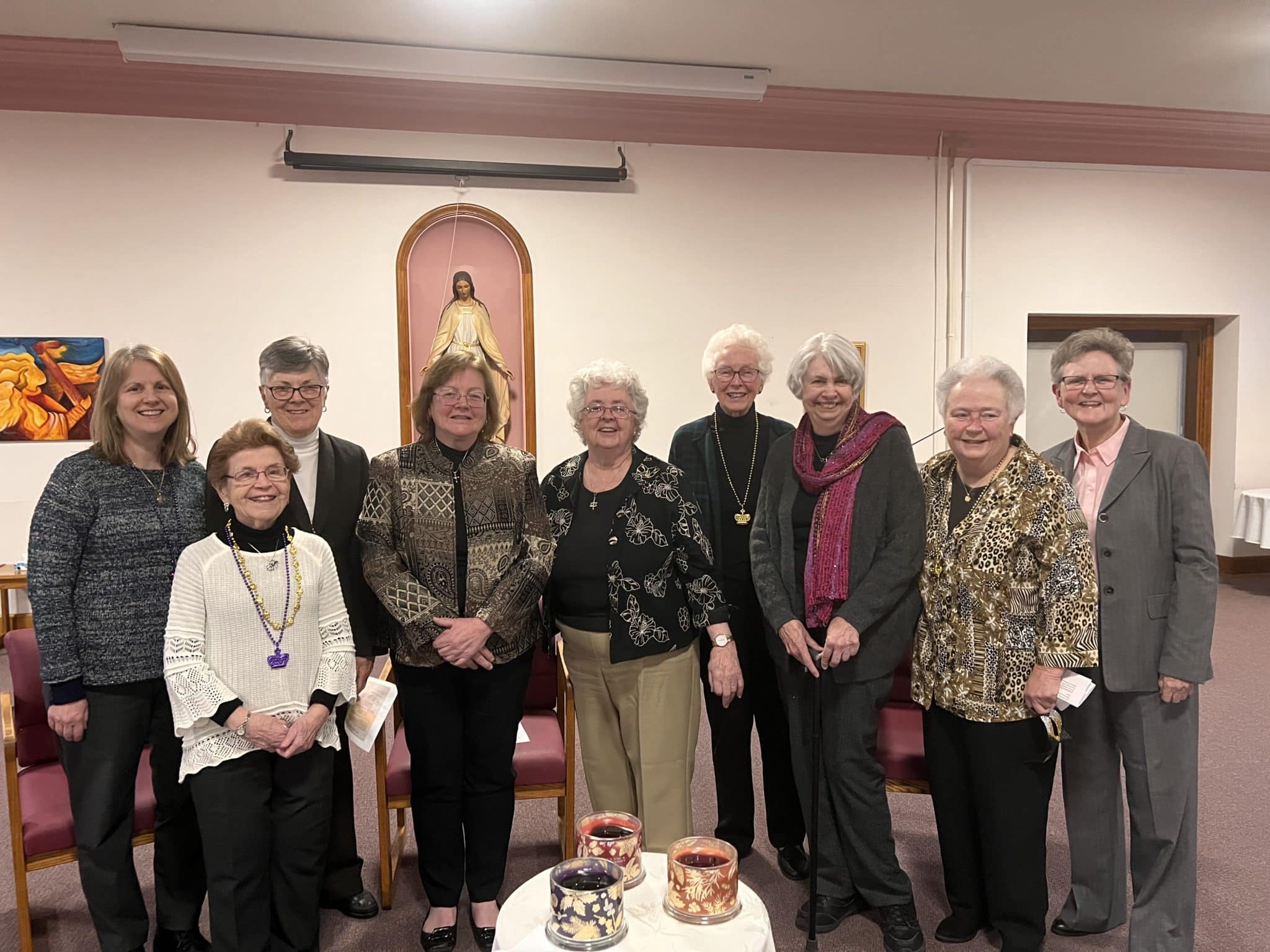 This term originated in our early documents and referred to women who were members of the community but did not profess canonical vows. Some Joseph congregations have revived this form in recent years. In 2021 the Brentwood congregation welcomed persons who wished to live its charism and mission but did not want to make canonical vows as Agrégées. They make noncanonical vows of fidelity to God and the Sisters of St. Joseph of Brentwood. They retain their independent responsibility for their legal and financial responsibilities.
2021 - Shinnecock Tribe Partnership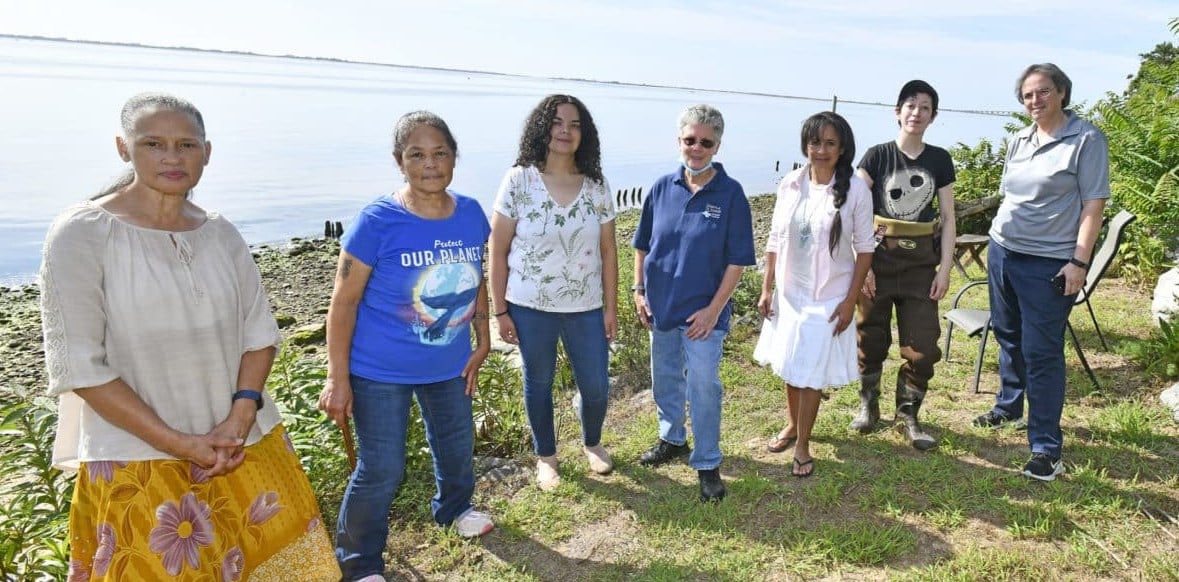 Six Indigenous women formed the Shinnecock Kelp Farmers who will grow seaweed to improve water quality in Shinnecock Bay and process the harvest into fertilizer. Kelp farms offer coastline protection from erosion by protecting against storm surges while creating conditions for shellfish to thrive further purifying the water. The Sisters of Saint Joseph are hosting the group's hatchery at St. Joseph Villa in Hampton Bays and planning additional ways to use their grounds to support the group's future kelp farming expansion. This partnership will rebuild the marine habitat and replenish the Bay as a resource for the Shinnecock.
2022 - Covenant Relationship with CIJ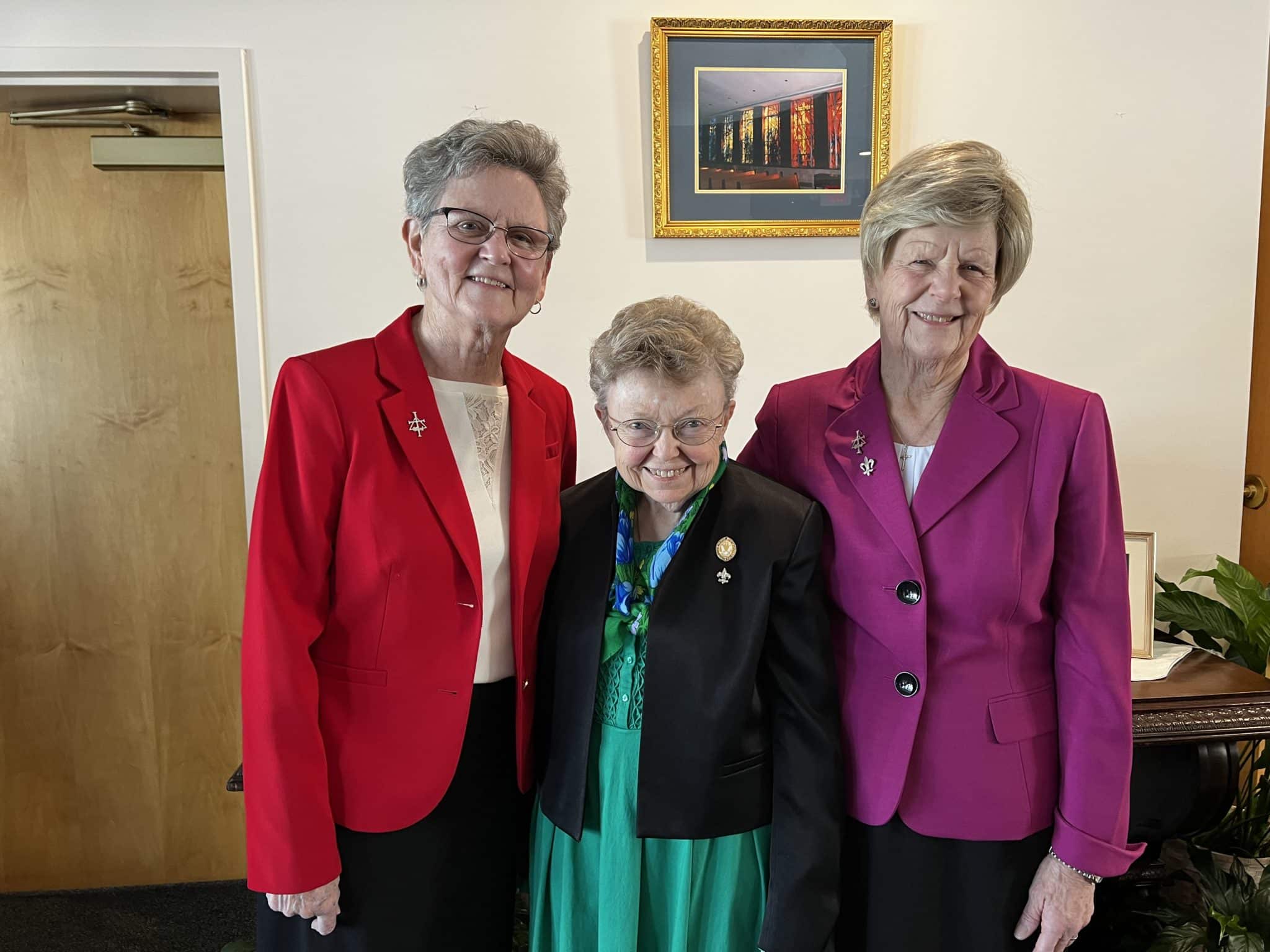 A covenant relationship is a commitment between two religious institutions to face the future together independently until, at some point, one community provides canonical leadership to the community coming to completion. In 2016 the Congregation of the Infant Jesus entered into this relationship with the Sisters of St. Joseph. In 2022, Sister Helen Kearney, CSJ  became the  Commissary (Canonical Trustee) of the CIJ congregation. In addition, Sisters of St. Joseph have moved into the CIJ Villa community and there is mutual support on this journey.