Sister Nancy Jean Fackner, CSJ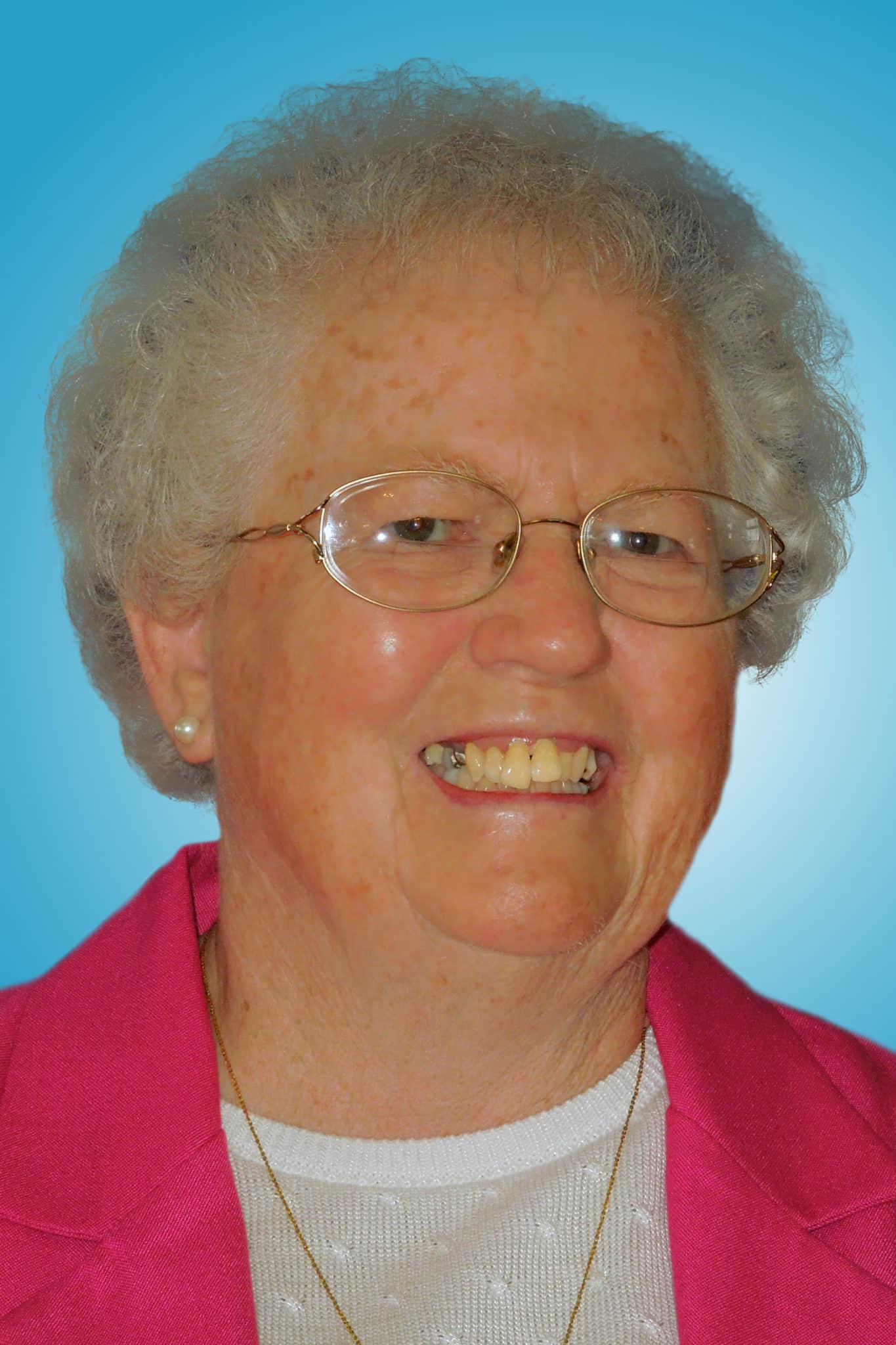 Sister Nancy Jean Fackner, CSJ died on October 12, 2022 in the 67th year of her religious life.
We come together today to celebrate the extraordinary and meaningful  life of Sister Nancy Fackner, formerly Sister Regina Martin, a Sister of St. Joseph for 67 years.
The words gratitude and fullness of life come to mind in capturing the depth and breath of Sister Nancy's full  life.  In the spirit of Hildegard of Bingen, Nancy's life was a witness to God's "living spark" and "ray of splendor".  She, with a thinking heart, co-created with God in shaping our world here in Brentwood and beyond to the world she embraced.
Born to Margaret and Walter Fackner, Nancy was one of five children.  Along with her siblings, Robert, John, Judy and Martin, St. Martin of Tours, Brooklyn was the faith center around which the Fackner family found nourishment and focus in living Gospel lives.
Nancy attended St. Joseph Juniorate and from all accounts her insightful leadership, lively deep faith and passion for justice took root in those hallowed halls.
After graduating from Brentwood College, earning a Masters in Education and a Certificate in Administration, Nancy spent the next 15 years shaping the lives of countless students and families.
1974 was a turning point for Nancy as she attended Caledonian Hospital studying to become an LPN.
Answering the call to serve the marginalized poor found Nancy ministering in Clay County, West Virginia along with her soul mate, Kathy and while in active service to the needy, Nancy earned a BS in Nursing at West Virginia University.
For the next 28 years Nancy with Kathy as her faithful companion moved mountains as they ministered in public health and became legendary Christ-bearers of the Gospel across West Virginia.
We are privileged that Eileen McCann, Nancy's dear friend and confident will share a reflection on Nancy's profound life.
Eileen
Nancy Fackner, CSJ, Sister to the Global Community of Life, Compassionate presence to all! And to this we say Presente!.
We all know that it is Kathy who should be standing here today and after having many conversations with her in the last few days, be assured that she is very much with us and so is Nancy.  Nancy is reminding us in this very celebration of how important it is to reflect on the life, teaching and prayer of Jesus to develop within ourselves an attitude of nonviolence.  She demonstrated throughout her life how God's spirit intersects with the human spirit and how to focus on the self only as part of a living, loving struggling community of God's people in the world.  Nancy had the courage to suffer the wounds meted out by our world not only to herself in her many physical challenges but also in the acute awareness of those generational wounds imposed by systemic inequality to our sisters and brothers relegated to the margins.
Nancy was, is, and ever will be a Mountain Moving Woman. She was ministering in Appalachia when Collen Fulmer's song came out and it seemed to me that Nancy was the cover woman reminding us of our call to justice to wake.  She saw the barriers of race, creed and birth which separated us as sisters and brothers, the devastation of Mother Earth in coal country.   As she ministered in public health, made her home visits in the mountains and hollows and marched with coal miners for better wages and safer work conditions it was always in the Spirit's gentle power and the strength of our love, that she was convinced that our earth could be remade.  Never a loner she encouraged colleges, churches and schools to "come and see", to meet the "other", work side by side so that the us and them would dissolve into a WE.  Together in faith the WE would move mountains.
After discerning that it was time to leave Appalachia, Nancy, honed in the wisdom and resiliency of her Appalachian community, used her nursing skills in Suffolk County to serve vulnerable adults with special needs.  She advocated for them, and local politicians knew her by name as she urged them and all of us to support legislation for just and equitable solutions for this vulnerable population as well as for the innumerable national and global issues which compelled this prayerful woman to action and to persistently, and often annoyingly nudge us as a Congregation to do the same.   This Mountain Moving Woman was convinced that if we heard the voices of the those who struggle with the mountain of injustice and join as a WE with other partners hungering for justice and right relationships, the We could move the mountain and our earth shall be remade.
Nancy brought to Brentwood with her all of these passions and immersed her in another – her beloved Soup Kitchen and Food Ministry Community in St. Ann's.  She reveled in those Saturdays, the shared stories of the guests at the table and the blessing it was to join the beautiful volunteers who worked with her.  She brought those concerns to the fore in every opportunity she found, from writing proposals for available grants, to getting all of us to buy socks and underwear which were sorely needed, to searching out resources needed by those whose stories she shared.   This Mountain Moving Woman was unable to prevent the Soup Kitchen from having to close during the pandemic but she was able to obtain a CSJ grant for St. Ann's Food Ministry, moving a mountain of need from the pantry of St. Ann's to the shopping carts and trunks of cars of those most in need.
As a devoted member both of the Nonviolence Community and the Justice Committee of the Congregation Nancy brought to us constantly the reminder that as followers of Jesus we had a task: to bring lasting justice. We were to be tender and careful with all our sisters and brothers in the global community but were especially responsible for those whom the Holy One put right in front of us, our neighbors.  Our families, those we live with, our employees and their families.  This Mountain Moving Woman urged us to prayer and advocacy for those far and near.  From the relatives of her aides who had recently crossed the border, to the horror of conditions in Haiti, she challenged us to move mountain after mountain, convinced that together in the Spirit we could level a couple more and renew the face of the earth.
So, dear Nancy, be with us!  We shall all rise and heed the call of the Spirit. We know that our ways are not God's ways – and God's ways are above our ways.  If we follow the ways of God, it may seem illogical to people in the State Department, our families and our parishes, that like you, Mountain Moving Woman, we believe that together we'll remake the earth.  Let it be so.
Eileen McCann, CSJ