Sister Ave Regina Gould, CSJ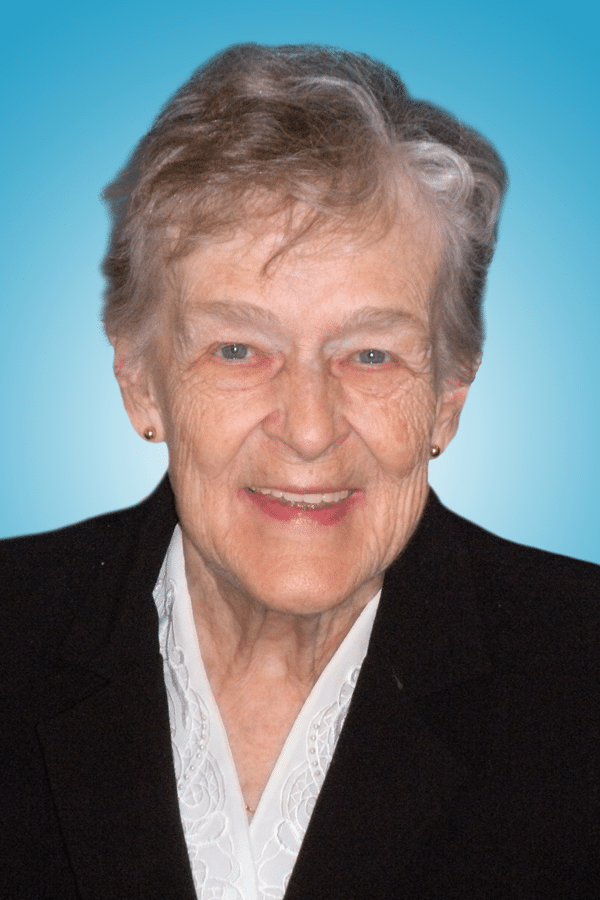 We, the Sisters of Saint Joseph welcome all here to this sacred space of Sacred Heart Chapel and all those who are one with us via Livestream to the celebration of the life of our beloved sister and friend, Ave Regina Gould.  Greetings of love and peace to Jenni and Dan McDonald, Alex White, and their family in Florida. Jenni and Alex are the daughters of Ave's brother Bill's wife Maria. Jenni and Alex, Sis loves you and took delight in your communications that kept her up to date with you and your family.
We are grateful to have Fr. Sean Gann, here to celebrate and pray with us. Much gratitude to the music ministry and choir of St. Mary Magdalene Church, Springfield Gardens, Queens who traveled to be here to lead us in lifting our voices in prayerful song. Gratitude also for the gift of music that Ave's dear friend and our Dominican sister, Mary Anna Euring, OP, has been providing as Ave continued her divine dance in the loving embrace of God. Heartfelt gratitude to the community of sisters, nurses, aides, and the entire staff here at St. Joseph Convent. In 2014 when Ave decided to join this community she knew she made a good decision and in these recent months, Ave was so grateful for your continued love, prayers, tender care, and all the visits to her bedside.
A month ago when Ave finalized the plans for this day, she proceeded to say, 'Now it better be carried out as I have it planned or else I will come back and drop something over all of you.' To which I replied, 'So much for the vow of non-violence Av!' She was clear this celebration is not to be about her as a person, it is to be about the message she tried to share in life. Well, Ave, the person you grew to become in your ninety-three years of life is the message that you lovingly and faithfully shared in all your encounters, and how blessed we are to have witnessed your simple, prayerful, courageous, and compassionate life.   And so I hope the words that follow reflect Ave's message on how we too are called to live life and live it to the full. While there is much to share, these words are somewhat the condensed reader's digest version…going forward it will be important for us all to pick up on the message of Ave's life and share it through our own.
What is the message Ave shared in life? Simply put, it is to live with selfless abandonment and the desire to receive Divine Love and then commit to being that love.
The start of Ave's lifeline was born out of the love shared between Donald and Agnes Gould. With the arrival of their first child and only daughter they aptly named her Elizabeth and similar to her namesake in scripture, life's energy welled up from within as she felt the presence of God in her daily encounters. A few years later she was joined in life by her dear brother Bill. Together the family made their home in Greenpoint, Brooklyn where then Elizabeth attended St. Anthony Elementary School and then went on to Bishop McDonnell High School where she continued to excel academically and as a leader among her peers. Ave was grateful to her mom who in her words gave her a long rope and as we know Ave used every inch of it to the good as she discerned what God desired of her.
Early in life Ave learned that prayer was the way she would come to know God, her first love, and this relationship would lead her to live a life of love that is inclusive, non-violent, and moves all to greater unity.
Ave shared that she did not remember how old she was when she first learned to pray. As a trusting child, her consciousness of the Holy One was very simple. Secure in her mother's and father's love, all her personal needs were fulfilled and the one God to whom she prayed, was good and responsible for everything.
Her growing relationship with her first love led her to the Sisters of St. Joseph where she has lived the life for seventy-five faith-filled years. After her novitiate, she spent ten years teaching every grade level of elementary school at Blessed Sacrament, St. Athanasius, Queen of All Saints, all in Brooklyn, and St. Rita's in Long Island City, Queens. It was not until her later years of teaching elementary school, that she received her bachelor's degree. She was a natural and creative teacher. She continued on at St. John's University where she attained a master's degree in science and then taught science at St. Pascal Baylon High School. After the classroom, she would be a part of interracial home meetings in Hollis, Queens helping neighbors meet neighbors in order to bring about the Beloved Community. This was just one of her contributions to the Civil Rights Movement.
Through her formation,  prayer, life's Paschal experiences, and the waves of change ushered in by Vatican II, Ave was graced to recognize that the kindom that Jesus advised us to seek when we pray, is more expansive than the institutional Church and that we are called to co-create, with the Spirit, this Community of the Beloved, wherein all are fed, housed, and loved unconditionally. Her love was singular and expansive.
Life's experiences expanded her vision, a vision that became grounded in both faith and science. As she went on to study theology at Providence College she saw the alignment of science and theology. She grew her knowledge through science and her faith gave her the wisdom to interpret it. She then enthusiastically shared this with the novices in the Novitiate and junior sisters in Brentwood College. Ask any novice in the parties from 1964 to 1969 and they will share the wisdom and insights gained from their experience with Ave and her message of how to love life and how to love in life.
Ave often lifted up the words of Pope Francis, and I quote, 'One could say that today we are not living an era of change so much as a change of era. The situations that we are living in today, therefore, pose new challenges which, at times, are also difficult for us to understand. Our time requires us to live problems as challenges and not as obstacles: Jesus Christ is active and at work in our world. Thus, go out into the streets and go out to the crossroads: call all those whom you find, excluding no one. Accompany especially those who are on the roadside, "the lame, the maimed, the blind, the dumb". Wherever you may be, build neither walls nor borders but village squares and field hospitals.' (end quote) Perhaps it was reflecting on her life decades before that inspired the pope to preach these words. The manner in which Ave lived her life has certainly helped to usher in a new era.
With others, she read the signs of the times and it moved her to parish ministry and further out into the neighborhood. At Our Lady of Grace, West Babylon, she was part of an expanding religious education program that spanned across generations. She served on the Rockville Centre liturgical commission and carried out the new norms of Vatican II in parish life.
Returning to the Brooklyn Diocese and ministering at Our Lady of Presentation and St. Mary Magdalene parishes, she continued to push the limits within the Catholic Church. She encouraged and taught others to use their voice, to proclaim the gospel, and to be gospel. To praise God in word and in dance. She spoke into the lives, particularly young women of color, that they were more than worthy of being in ministries within the Church. As if all that is a part of parish ministry is not all-encompassing, Ave made sure to participate in IAF Leadership Training to better assist with the work of East Brooklyn Churches that brought about the Nehemiah Housing Project providing affordable homes for many in Brownsville and East New York Brooklyn. As for accompanying her neighbor, Ave lived for more than three decades as a member of the Providence House II core community. The women and children often wondered what it was that the sisters did during the day. Perhaps it was Ave's blue blazers that caused them to think her job was a security guard. They weren't far off because the hospitality of her heart welcomed any and all across the threshold where they found a safe and secure home and a welcome at the table.
In between her parish ministries Ave was called forth as the Regional Superior of Region 1, South Brooklyn. While continuing to model the life she was called to live, she was ever present to her sisters. Before there were cell phones, there were portable phones, and Ave's never left her side. Sisters called and she was present to them. If she added a chain, her phone would be like a pectoral cross not as a sign of position but as a sign of service.
In assessing the ills of the world and not being frustrated by them, Ave knew she needed to do her inner work and like Jesus, respond a third way, the way of non-violence. A member of the CSJ Non-Violent Community for almost 40 years guided Ave in her commitment to living the vow of non-violence. Her membership in Pax Christi was an added support. In being true to this vow she was moved to be present at the Nevada Test Site, the School of the Americas, and to the action at the end of the Good Friday Pax Christi walk where with others she engaged in civil disobedience opposing weapons of war which at times led to her arrest. Her warm smile and full cooperation often melted the hearts of the police officers.
Ever making connections, Ave saw what violence also did to Earth, our common home. She was instrumental in helping to shape the vision and move Chapter Direction Statements forward as a long-time member of the CSJ Earth Matters Committee. Her sense of oneness led her to decide on a green burial. More on her decision to come. This she did by praying the prayer of Jesus, that all may be one.
Living into her final years, Ave was in awe of what she saw and perceived in life. From the recent findings of the James Webb telescope and the genesis of our evolving universe to her own growing realization of her place in it, she was better able to contemplate, as in a mirror, the One who is All That Is.
In addition to being a part of the St. Joseph Convent book circle, she read a variety of books with her dear treasured soul friend Mary Anna that would continue to stretch them both. Passing on their recent read, Cosmogenesis by Brian Swimme, I discovered a handwritten list from Ave of how we are to raise the powers of Love upward and outward. Here are her suggestions:
Live the mystery of Christ more consciously
Become more intentional about engaging in individual and communal contemplation.
Create new ways of coming together
Be diligent about personal and collaborative shadow work.
Lastly, in addition to her well-chosen translations of the scripture readings that will be proclaimed in the liturgy, Ave wanted to share the ending of a poem by Gerard Manley Hopkins, which we see at the back of the booklet. It is a glimpse of how Ave's life was the message of love that she opened herself to receive and the love that she committed to be.
Away grief's gasping, joyless days, dejection.
Across my foundering deck shone
A beacon, an eternal beam. Flesh fade, and mortal trash
Fall to the residuary worm; world's wildfire, leave but ash:
In a flash, at a trumpet crash,
I am all at once what Christ is, since he was what I am, and
This Jack, joke, poor potsherd, patch, matchwood, immortal diamond,
Is immortal diamond.
How does one become all at once what Christ is, since he was what we are, an immortal diamond? Ave's life of prayer led to her commitment to live a life in Christ. It's in Christ that she found out who she is and what she is living for. Long before she first heard of Christ, and got her hopes up, he had his eye on her and had designs on her for glorious living, part of the overall purpose he is working out in everything and everyone.
Ave the message of your life has brought us to the threshold of a new era. Your courage faced the challenges and your prayer surfaced creative solutions. Your compassion touched many, particularly those on the margins of society, and was a source of healing. Your faithful commitment gives us an example of how to continue to receive love and to be love.  How timely that in your 75th year, your Diamond Jubilee, you would totally hand yourself over to the Divine.
Ave Regina Gould, an ordinary woman, who lived life in extraordinary ways and whose belief in the promise of resurrection knows that like Christ she too is an immortal diamond, and what a gem of a life she lived. So let us not be sorry for her loss, for indeed we have gained much from the life she shared with us. A life that lives on as we continue to live the message she taught us; receive love, and commit to being love.
Ave, in gratitude for your 75 faith-filled, committed love of God and neighbor from whom you never separated yourself, I place our Constitution in your hands.
Joan Gallagher, CSJ
Sister Ave Regina Gould, CSJ, died on July 30, 2023, in the 75th year of her religious life.