Sister Carole Anne Lessard, CSJ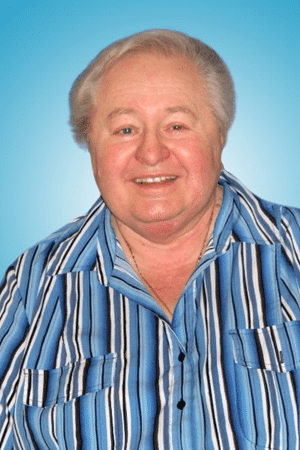 We  gather to celebrate and give thanks for the beautiful, joyful and holy life of our dear friend, Sister Carole Anne Lessard, a Sister of St. Joseph for 59 faithful and fruitful years.
Carole had a jeart of gold. She found joy and happiness in every situation.  Her whimsy would be on full display as she, in cahoots with the Staff would orchestrate a rousing time, being sure to break every rule there was  . . . all with a twinkle in her eye.  Her laugh could be heard throughout the house.
Family was the heartbeat of Carole's life.  Growing up in Astoria with
Immaculate Conception parish as their anchor seemed idyllic, fostering values of faith, a strong work ethic and respect for all.  A warm and loving relationship existed with Armand, Jean-Paul, Carole and Marie Anne as they shared many dynamic, nourishing and adventurous experiences.  Add Uncle Antoine to the mix and life was wonderful.
Carole would want it known that her former name, Sister Joseph Cecile, gave tribute to her beloved and dear parents whose French-Canadian roots proudly enriched her life.
It was universally known that the Lessard hospitable spirit of graciousness and fun welcomed everyone with the guarantee of sumptuous food, laughter and a true sense of belonging.
That rich legacy continues in the lives of Jon-Paul, Jeanine, Joseph, Michelle, Scott, Mark and their families and relatives, who join us today.  You were deeply loved by your Aunt Carole.
Relationships were central to Carole's life ~ she was a 'people person' par excellence ~  Her listening heart was ever-present.
This chapel is filled with people whose lives have been touched and transformed by Carole's goodness, guidance and witness.  She was a steady ender ~ someone who could be counted on.  Her varied ministries reflect her commitment to a life of true service and love of the dear neighbor.
As a pioneer in establishing PROSPER, a Special Education
Program in the Diocese of Brooklyn, Carole's empathy, compassion and expertise were paramount.
Her role as House Mother with profoundly developmentally
delayed adults brought a sense of peace, tranquility and possibility to all.
Working in the General Studies Program at St. Joseph's College
brought Carole into the world of Academia ~ and it was never the same!
For 26 years, while working full time Carole shared life and
community with formerly incarcerated women and their children at
My Mother's House (Hour Children).
Her bedroom was the go-to place for goodies and affectionate attention whether you were 2 or 22.
Carole's profound, loving and selfless caring/ lives on in the accomplishments and successful life stories of Carole's companions in those ministries many of whom are here today.
Carole always kept a low profile; never looking for center stage but nothing~ and we all know ~ NOTHING  ~ ever got past her.  Her beckoning finger along with her questioning, discerning eye, called many to accountability ~ especially if they were wearing  RED.
Carole's culinary skills were endless whether shared with family baking bread and pies for the holidays or with her many groups of friends.
Especially famous for her pepperoni bread, Easter Waffles, Strawberry Angel Cake or her delectable Crown Roast, Carole's recipes brought people together just to enjoy being with each other.
Over the years the call to be of service within the CSJ community found Carole on countless committees.  She particularly loved raising funds through Mission Advancement (in her time, The Development Office) and because of her great skill she aptly earned the title of "Sister Shakedown".
Carole walked humbly with her God, living out of a deep, simple faith and nurtured by prayer and the Eucharist that led her to respect the goodness and dignity of every person.
Each person was importantEEach person's story was important.
Each person deserved her undivided attention.
Carole's wisdom and insight were always sprinkled with a tender dose of her characteristic humor and wit.
She was indeed the face of God to many.
At each stage of her life, Carole's many circles of friends were boundless, including 'The Good Guys' and their adventurous escapades of fun-filled laughter for over 40 years.
 let us all pause for a moment and fondly recall Carole's unique booming laugh.May it resonate in our hearts forever
Carole's niece Jeanine shared that she once asked Carole why she entered the convent ~ and Carole, in her own inimitable way replied ~ because she was bored ~ yes, bored ~ (in reality she wanted a meaningful life of service and a life expression of her faith.)
We can all attest, as Carole often did ~ that the convent cured her boredom!   Her life was filled with wholehearted service animated by a deep trust in a God who embraced her daily with love and true peace.
Even with all of the health challenges Carole faced and there were many, she never complained or lost focus ~ life was a gift, one she treasured and lived to the fullest.
And now, we're honored to have J0n-Paul share a "Lessard family snapshot" of their dear Aunt Carole."
                                 Jon-Paul
You did it, J0n-Paul ~ You captured the heart and soul of your beloved Aunt Carole.  Thank yo
With a heavy heart but one filled with gratitude and love to our
gracious Creator God for Carole's presence in my life and with thanksgiving for her 59 years of joyous, creative and faith-filled service as a Sister of St. Joseph, our Constitution is placed in Carole's hands as we all acclaim with full voice and great love ~
"Well done good and faithful friend."
"Well done good and faithful friend."
And I'd invite all of us to proclaim the same ~
Sister Carole Anne Lessard, CSJ , the former Sister Joseph Cecile, died on June 9, 2023 in the 59th year of her religious life.