Sister Elizabeth Ann O'Brien, CSJ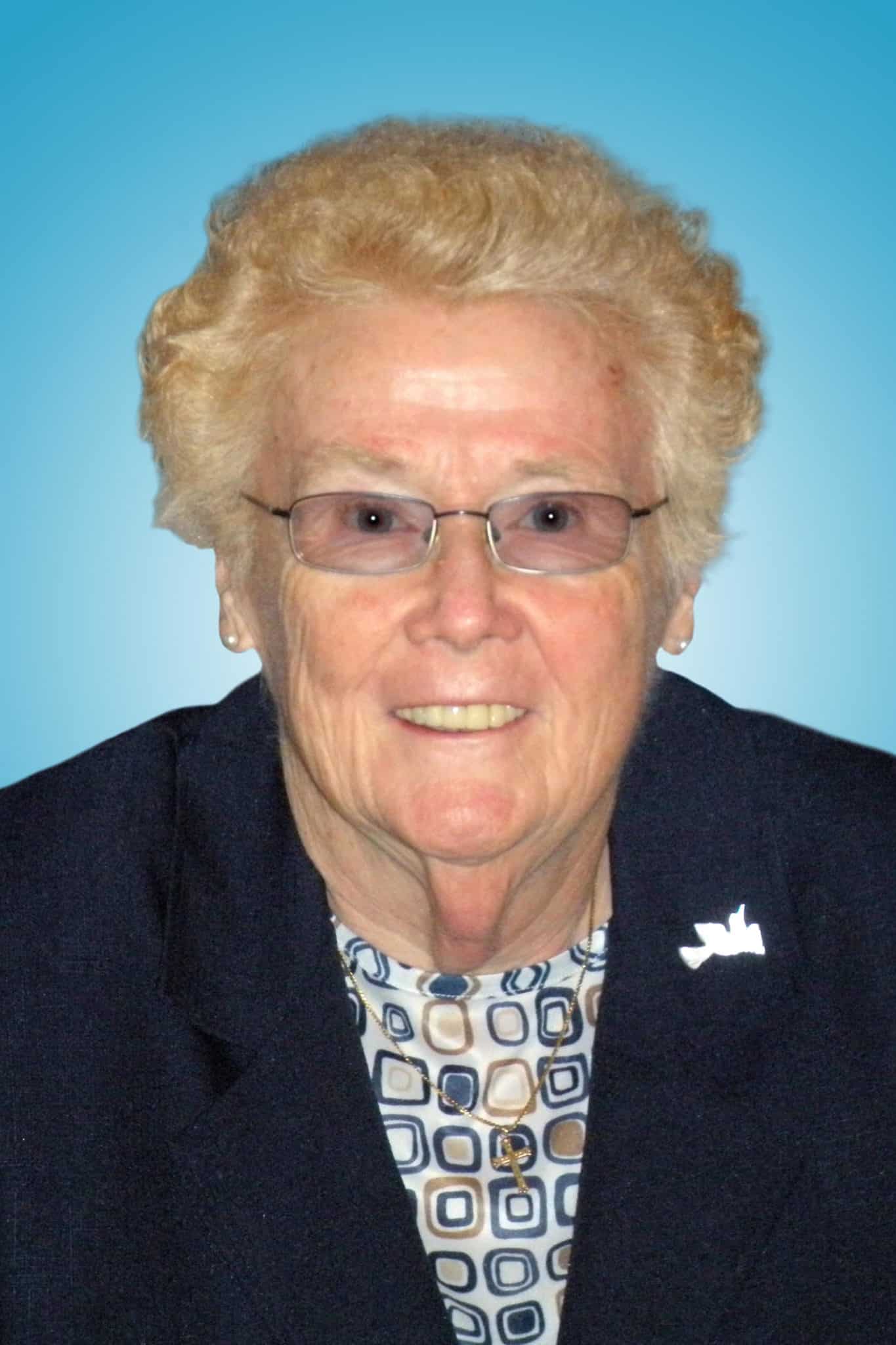 Sister Elizabeth Ann O'Brien, CSJ, the former Sister Elizabeth Gertrude, died on December 10, 2022 in the 66th year of her religious life.
We come together today to celebrate the full and fruitful life of Sister Elizabeth Ann O'Brien, our beloved Betty, formerly Sister Elizabeth Gertrude, a Sister of St. Joseph for 66 years.
Born to William and Elizabeth O'Brien, Betty and her brothers, William and Joseph, grew up in Brooklyn with St. Martin of Tours Parish as the center of their lives.  At an early age, called to take on household responsibilities, Betty and Joseph's bond deepened and blossomed ~ even though he loved to tell stories of Betty as a Tattle Tale.
Betty's mother as the anchor of family life, worked tirelessly to provide a faith-filled and value-based home for her children
After graduating from Bishop McDonnell High School, Betty worked a year in Woolworths before entering the community.  She often said that her Woolworth experience was the best preparation for her later ministry as Bursar in Our Lady of Perpetual Help High School and St. Joseph's College.
Earning a Masters degree from the State University at Potsdam, Betty was well prepared to spend two decades doing what she loved ~ teaching elementary school children in the Diocese of Brooklyn.  In the later years of Betty's active ministry, while living for more than 30  years in Holy Spirit Parish, Brooklyn, she shared her talents and zest for life at Bishop Kearney High School doing whatever was needed to be done.  While all agreed that Betty was "lovingly bossy", her affable manner, quick wit and sense of humor as well as her lively faith endeared her to all.  She got the job done!
With Betty's move to Brentwood in 2020 she brought her characteristic smile and open-heartedness to enter fully into community life in Saint Joseph Convent and Maria Regina Residence.  Her sense of gratitude for all the staff and aides who showered her with love and attention was palpable.
At the November gathering of CSJ's in Maria Regina Residence, Betty especially relished the sing-along almost as much as she did the ice cream.  She could really belt out "Don't Fence Me In."
Faithfulness to prayer, centered in the Eucharist that nurtured her personal relationship with her God was always part of Betty's daily routine.  God walked with her in joy and peace no matter what the situation or challenge.  It was this deep faith that sustained her family during her beloved Godson Daniel's illness and death.  Yes, Betty was a special, religious woman whose life witnessed love of God and the dear neighbor without distinction.
We now invite Betty's niece, Kerry to share a reflection.
Good morning I am sister Betty's niece Kerry OBrien. Thank you for coming today to honor and celebrate her life
Aunt Betty led an incredible life dedicated to love and service to God, her family, and her community.  She was a teacher, an adventurous traveler, a fierce game player, creative storyteller, a great listener, loyal friend and she was by far the best Aunt anyone could ask for. She was like a second mom to us and the beloved matriarch of our family
Aunt Betty could pray hard but she could also play hard and we have so many joyful memories filled with her laughter, her sense of humor and her sparkling blue eyes.
She could be bossy at times but she will be most remembered for her strength, perseverance, her dedication and love for her family and her community of sisters.
Getting old can be tough but you wouldn't know it talking to Aunt Betty.
Her life was challenging no doubt but she looked at each day as a gift and gave it her all and didn't let her physical limitations slow her down. She continued to work until late in life retiring from Bishop Kearney High School, she patiently cared for her brother Joe, my dad, who had Alzheimer's and she would babysit at a moments notice for her grand nieces and nephews.
Aunt Betty was always great company and we cherish the time and memories we had together.  She had such strength, spirit and determination.
During one of our window visits at the height of covid I was asked to speak to her about her health care proxy. She said to me quite fiercely I am not going to get through this pandemic and then have the doctors let me go!  I want to live and see you guys again and be with you again. I love you. And she did. That strength and spirit enabled her to overcome the isolation of covid that took its toll on so many of our elderly.
No matter the ache or pain, the surgery or fall she was recovering from or the car accident she had just been in, she was always okay and never complained.
A few month ago we were sitting outside drinking coffee enjoying the sunshine and fresh air and she said,"Sometimes I don't know who I am but then I look down at this bracelet and it tells me."  She paused looked directly at me and then started cracking up laughing. Nothing got her down. She was truly an inspiration to us all.
Aunt Betty was the heart of our family and we will cherish all of the many memories we have of her and keep her in our hearts always.
She helped us raise our children, celebrate our accomplishments and hold and comfort us during our worst times. She stood beside us whenever we needed her and gave us much needed strength.
Today and for always we will celebrate and honor her and take comfort knowing she is with God and her family in heaven.