Sister Gloria Lydia Agnese, CSJ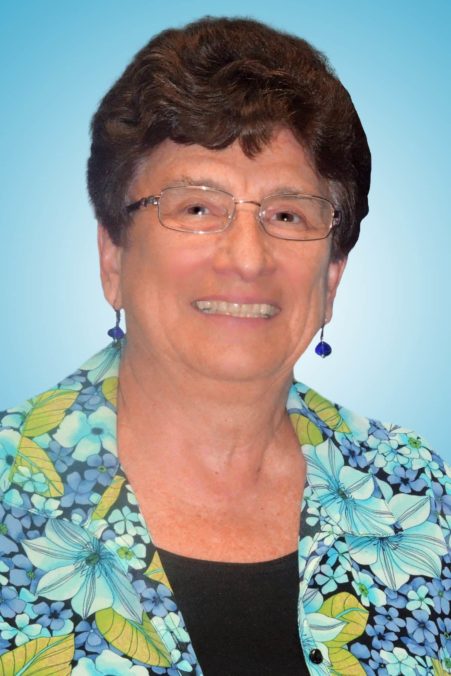 Sister Gloria Lydia Agnese, CSJ, the former Sister Francis Helena, died on June 16, 2023 in the 68th year of her religious life.
We celebrate and give thanks for the beautiful life of Sister Gloria Agnese, formerly Sister Frances Helena, a Sister of St. Joseph for 68 faithful years.
Gloria is fondly remembered as an upbeat person who never let anything get her down.  As a volunteer at Stella she brought fun and joy to all, especially with her lively skill as a pianist who didn't need sheet music ~ a marvel to all!  She and Frank Sinatra made the Community Room transform into Carnegie Hall.
Gloria's flare for decorating was evidenced in every nook and cranny of Stella Maris Convent.  Straw-filled scarecrows were her specialty as well as many chachis.  Later as a resident at Stella, Gloria's gentle, but joyful presence spoke of the presence of God ~ where words were not needed.
As proud Brooklynites with Our Lady of Guadalupe Parish centering their lives the Agnese family was a beacon of welcome and hospitality ~ there was always an extra seat at the table.
After graduating from St. Brendan's Diocesan High School, Gloria entered the Congregation with her characteristic upbeat spirit and optimistic viewpoint evident to all.  Gloria had an innate passion for teaching ~ and teach she did!  For 30 years she nurtured the minds and hearts of elementary school students at Holy Child Jesus School, St. Ann's, and in the real love of her ministerial life the school and parish community  of St. Agnes DeGraw Street.  She and Angela Patrice and Mary Perasa were household names ~ real Sisters of the neighborhood who brought a sense of peace and support to many.
Gloria's skill and passion as a teacher continued for the next 21 years in the high school communities of OLPH, Brooklyn and St. Peter's on Staten Island.  Yes, Math was her specialty as evidenced by the accolades this past week posted on Facebook from her former students. One man stated that he chose St. Peter's for his son because he knew Gloria was there and she had given him a love for Math as a 7th Grade teacher at St. Agnes.
Gloria also gave wholeheartedly to every aspect of school life ~She was an Ace softball player, a faithful attendee at all things "sports" and even coached the cheerleaders to victory at OLPH.  She loved her students, always encouraging their full potential and valuing each one's uniqueness and creativity.
For 20 years Gloria offered RAP sessions after school to provide a forum for students' development socially, emotionally, and spiritually.  Selfless, kind, lighthearted, humorous, and caring ~ the list goes on and on to describe Gloria's life of service.  Gloria never officially retired but continued serving as a volunteer at Bishop Kearney HS and later at Stella Maris Convent.
Her joyful attitude and sense of the holy engendered trust and good will ~ she was available to do whatever was needed ~ no fanfare, just simple service.
It has been stated that Gloria was a little over the top about the Mets and Baskin Robbins ice cream and love of dogs ~ but sharing all three with others gave life zest and enjoyment!
Gloria's friendship with Angela Patrice for over 60 years was treasured as gift.  They nurtured each other in prayer and good works sharing meaningful retreat times at Weston Priory and St. Alphonsus in New Jersey.  Family events were celebrated together ~ always in a spirit of gratitude and joy.
When health issues caused Gloria to lose her ability to communicate it was a heartache to her and to all who loved her.  Her indomitable spirit showed through in her warm winning smile and her large bright eyes ~ she expressed her gratitude for her phenomenal loving caregivers especially Sister Betty and to the Sisters and staff at Stella with a nod of her head and the tender grasp of her hand.  She knew she was loved and God walked with her in her difficult moments and sunshine possibilities.  She was at Peace!
Stella was her home, a home she shared with people who loved and cared for her ~ the blessing of a life well lived.
With gratitude to our Creator God for Gloria's life lived so joyfully and faithfully as a Sister of St. Joseph for 68 years, our Constitution is now placed in her hands. May God bless us with the grace to reflect in our faces continual joy of spirit and boundless service to all people ~ lessons that Gloria's life taught so well.