Sister Grace Andrew Callahan, CSJ
Sister Grace Andrew Callahan, CSJ died on November 3, 2022 in the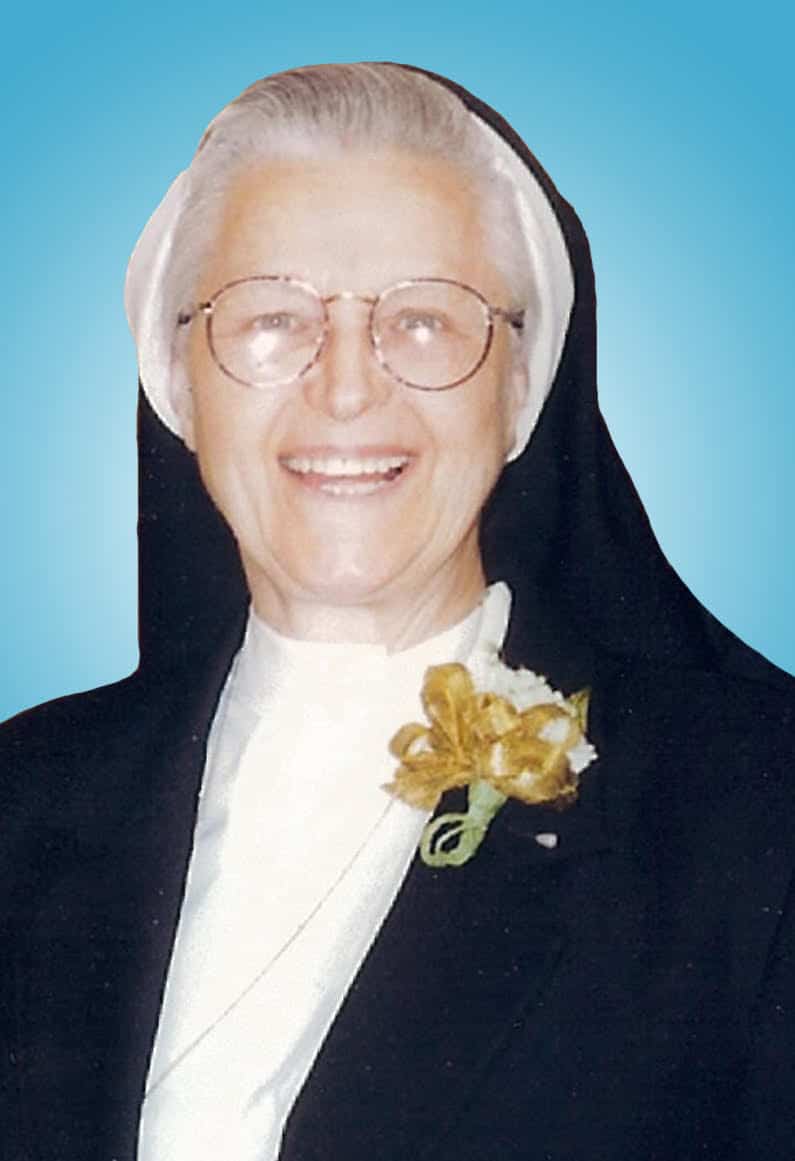 73rd year of her religious life.
We join in praise and gratitude to our loving God for the life and goodness of Sister Grace Andrew Callahan, a Sister of St. Joseph for 73 faithful years.
We can all envision Grace seated in her front row position here in Sacred Heart Chapel ~ dressed in her classic black and white with her rosaries in hand ~ greeting all with her gracious smile.  Truly a visible sign of God's active love
Born Lucill,e to Grace and Andrew Callahan, Grace along with her siblings, Andrew, Joan, Peggy and John, grew up as real beach kids with St. Francis de Sales Parish in Belle Harbor their anchor.
Grace attended Stella Maris High School where the seeds of her vocation were nurtured.  Her ministry as an elementary school teacher spanned two decades but the tales of her "darlings" lasted a lifetime.
Always an educator, Grace used her skills teaching Reading in our Brentwood Education Center and later in congregational work in our Administration Offices until her retirement.
St. Joseph Convent has been Grace's home for 49 years.  During those years you could always count on Grace's opinion to weigh in on all matters ~ great and small ~ with her characteristic finger in action.  She was a prolific letter writer and her audience knew no bounds.
Maryknoll Sister Maura Clarke ~ a Stella Grad and one of the martyrs in El Salvador was a dear friend of Grace's and a frequent
recipient of Grace's wisdom.  Just this morning Virginia Dowd, our Archivist shared a letter sent to Grace/Lu from Maura .  .  .
          "My dear Lucille,
How much I would love to see you now and have a long talk.  I thank God for all your beauty, dear Lu . . . which is God's beauty shining through you.  Thank you for teaching me so much by your gentle patience and faith in suffering.  How much I appreciate your lovely gifts and your friendship.
I've been in this little sad country of Salvador for ten days.  Pray for these poor suffering people dear Heart and for me as I'm unsure as to what the Lord wishes me to do."
Powerful and Profound
Grace's high regard and gratitude to her beloved aides and the staff in St. Joseph Convent were always mentioned with deep love and her characteristic smile.  Sister Josephine's faithful presence during Grace's final days was pure gift.
Prayer and fidelity to the Eucharist centered Grace's life.  Her love of people and the opportunity for a good chat overflowed into caring and kindness for all those she encountered.
We're delighted to have Sister Maura Costello, Grace's treasured companion and friend to share a reflection.
S. Teresa Fitzgerald, CSJ
Sister Tesa's reflection just now, leads me right into my special time with Grace during her later years in life, a time that for me, was a privilege, and blessing, and pure gift.  "Grace", named after her mother, and "Andrew" after her father, was well-named as she was always aware of God's grace in her life, as well as her call to apostleship lived out in her ministry with children, her prayer group of ladies in Brentwood and her sisters here.  Her family meant everything to her as she shared stories of early years, and looked forward to her Sunday chats with her sister, Joan.
I received a note from Grace in April, 2017 and I quote: "Since I am 86 years old, I believe I should be thinking of going home when God calls me not too far in the future.  If you are still here when that beautiful moment comes, I would like to give you the two most important needs I have – a priest to say the Mass, and any of the funeral Masses, prayers and hymns of other sisters which have given me such peace and graciousness through the years.
Grace was a door-knocker, and when opening the door, there was Grace with her broad smile with a request: "I have no money".  The routine was the money is in the safe for you anytime you want it.  That satisfied for a while, but then the knock came again.  I loved it!
Grace had focus in life not only about needed finances, but of the deeper aspect of life in community and in God, so alive in her.  Her communal CSJ living was always connected to her prayer, her obedience, her interest in the latest Congregational happenings.  It was so great watching her taking notes, giving opinions, asking questions as we prepared for our recent Chapter.  Her presence brought joy no matter where she was.  You should hear her laughing at "Lucy – Desi".  In Bethany, she went to "school" enjoying all the activities, and being forthright and challenging in her opinions, including politics!
Grace's 70th Jubilee was an outstanding day, as she shared family and friends, and was wearing her brand-new specially made habit, by Associate Deborah Jean, quite a moment.  Grace loved hair permanents and was alive to life!  One of Grace's favorite expressions was "the Sacrament of the moment" always aware of her broader Community here at St. Joseph Convent, encompassing administration, nurses, aides, medical and house employees, always gracious and grateful.
Grace's last weeks in the hospital, one day she asked about the Rosary, one of her favorite prayers: "Is it 3:30 yet?  Time for the Rosary?
Grace seemed to have 9 lives here on earth.  She was revived so many times but now she is in her true "fullness and forever" life.  She is/was one of God's anawim, the special ones.
S. Maura Costello, CSJ