Sister Mary Veronica Morrin, CSJ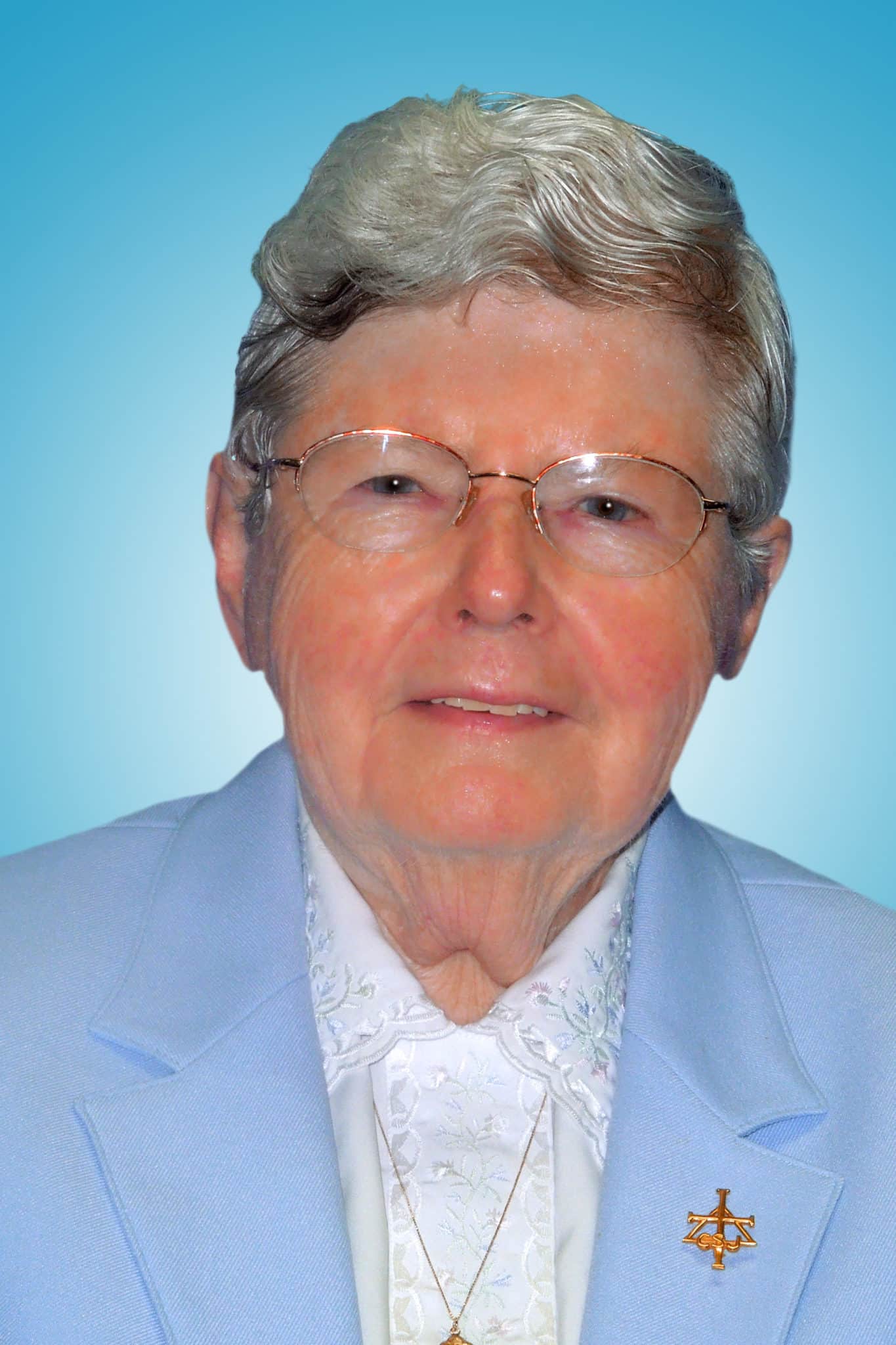 We join today today to celebrate the life, and the entrance into eternal life, of our beloved sister, Sister Mary Morrin.
Mary, and her sister Margaret, were born to loving parents, Margaret and Lawrence, originally from County Mayo, Ireland. Mary was a Brooklyn girl — baptized into the faith at Saint Paul's Church on Congress Street, before moving to Saint Francis Xavier Parish, Park Slope where she attended elementary school. Mary went on to attend Bishop McDonnell HS where she would make many of the life-long friends who would join her in entering the Congregation on the 8th of September 1950 —all fresh out of high school, brimming with enthusiasm and ready to serve.
As Mary stated on her entrance application, she wanted "to teach" and in fact, she dedicated her whole life to the Congregation's mission of education. Her love was science, and after many years of teaching in elementary school, Mary went on to teach Science at Mary Louis Academy, during which time she completed her Master's degree in Science Education at Saint John's University. But Mary had other talents and, after a short career teaching science, she was asked to study Administration at Fordham, with further Administration training at Hofstra University and the State University at Plattsburgh, NY.  Then, for the next 34 years, from 1969 until 2003, when she came to Brentwood as a Coordinator, Mary served as principal in Holy Name Valley Steam, Our Lady of Snows, Floral Park, Holy Family Flushing, and Sacred Heart, North Merrick. Then, as now, the administrator has one of the most important and challenging roles in advancing Catholic education. Mary responded to those challenges with grace and skill. She was thanked by past Superiors General and Pastors for her "generous, efficient and dedicated service" in this demanding role.
Mary moved to Stella Maris convent in 2010, officially retired, but you'd never know it! She continued to serve, whether clearing the tables, loading the dishwasher, filling the water pitchers, helping another Sister in need, or making sure everyone had a cold beer! That same readiness to serve that characterized Mary from her first years in the community remained with her throughout her lifetime. She was always a faithful and true daughter of Joseph, and a model of humble, joyful service.
Now Mary is united with her parents, her sister Margaret, and all the deceased members of the Congregation, enjoying the eternal life promised to all those in Christ who have lived and loved as he lived and loved. And to Mary we say, "Well done, good and faithful servant, … Enter into the joy of your lord."
Now, I am happy to introduce Sister Miriam Daniel Pender who had a long relationship with Mary at Stella Maris Convent.  The reflection she will read is the fruit of many Sisters' loving memories of Mary.
Sister Maria Pascuzzi, CSJ
Good morning, there is a beautiful hymn that many of us know entitled "Hail Mary, Gentle Woman."
As S. Miriam Honora, Sister Stephanie, and the Sisters of Stella Maris were reflecting on the life of S. Mary Morrin, that hymn came to mind. Sister Mary was indeed a gentle woman in every way. She is remembered as a kind, welcoming person, humble, generous, and always, always grateful…In truth, as one of the Sisters remarked, she would have made a wonderful grandmother! As it was, she was a very special Aunt Mary to her dear nieces, grandnieces, and grandnephews in so many ways.
Remembered as a quiet light in all of our lives, she brought peace to all with whom she lived and worked. Always ready with a smile, she brought joy to everything that she did —> including TV bowling which she excelled at in Stella Maris along with her encouragement for the players in the games of Scrabble: "Now, now, you should be able to make up a word!"
Her joy in being a Sister of St. Joseph brought joy to all especially her dear friends S. Miriam Honora, Sister Stephanie, and Sister Eileen Stephens. For over 71 years, these friends shared community life and many adventures together. Every year on St. Patrick's Day they could be found on Fifth Avenue, cheering on the marchers and in between there were trips to Ventnor, excursions out to the Island, and even to Ireland! There were family events at Breezy Point, from Christenings to Graduations to Weddings, along with celebrating many happy weeks at St. Joseph Villa, in Hampton Bays. S. Mary's trips to Medjugorje with S. Marcella also enabled her to touch many lives. She lived out the message of Our Lady at Medjugorje: "I am calling you to God and to prayer and God will bless you abundantly."
Mary did live a life of prayer, always taking her turn to pray a decade of the rosary with the Sisters in Stella Maris. Even as she carried her crosses of failing in her hearing and in her eyesight, S, Mary never complained — ever. She moved gently through life with her sense of humor and her candy > she did enjoy her candy!
Grateful for each and every thing, she loved her family, her friends, her sisters, and her dear aide Suzie. She knew that she was loved and she grew kinder and more grateful as she grew older.
The words in that lovely hymn also include: "Teach us wisdom, teach us love "Mary, we ask you to continue to teach us Wisdom and to continue to teach us Love. Just as you taught the Sciences to your students in Mary Louis, just as you taught your students how to care for each other in your years as a Principal in our elementary schools, just as you lovingly cared for the Sisters in St. Joseph Convent including getting a phone for each Sister in her room…we ask you now to continue to inspire us with your gentle love and your peaceful spirit .
Thank you for the gift of your gentle loving presence in our lives.
Sister Miriam Daniel Pender, CSJ
Sister Mary Veronica Morrin, CSJ, the former Sister Mary Lorenzo, died on June 26, 2023 in the 72nd year of her religious life.