Sister Maureen Rosarita Heegan, CSJ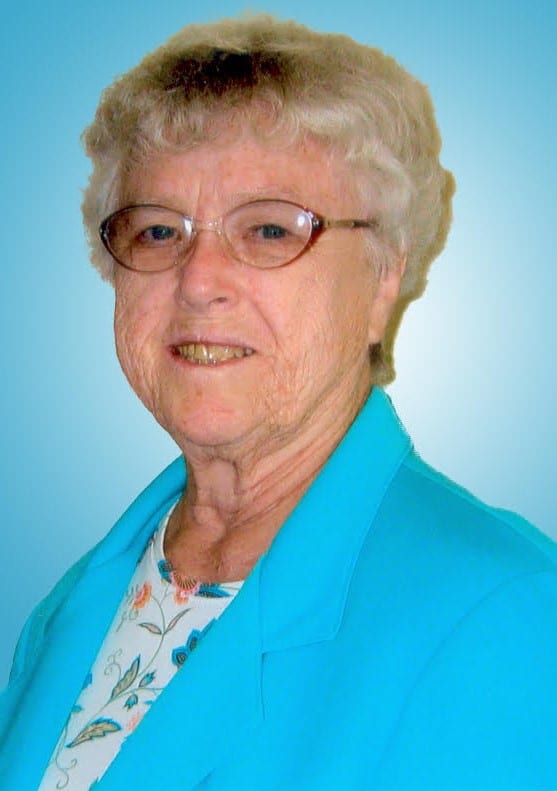 We remember and celebrate Sister Maureen Heegan, formerly Sister Mary Jeromita, a Sister of St. Joseph for 70 faithful and adventurous years ~ and one of our Jubilarians.
Born to Thomas and Mary Rosearita Heegan, Maureen and her brother  grew up in St. Thomas Aquinas Parish, Flatlands with parish and school activities the heartbeat of their lives.  As a proud alum from Stella Maris High School, Maureen often shared many happy and meaningful stories of the Stella Sisters by the Sea.
Having started her undergrad studies in Notre Dame, Staten Island, Maureen entered the Congregation and later completed her degree at St. John's University.  Maureen's love of history brought her into many lively and spirited conversations.
For 12 years Maureen's ministry focused on elementary education in schools across the Diocese of Brooklyn with teaching 8th Grade her specialty.
Maureen later ministered as an EKG Technician at St. John's Queens Hospital while immersing herself in the emerging field of Religious Education.  Maureen's love of teaching and her passion for evangelization coupled with a wanderlust for adventure started her on her journey across the country.
For the next 23 years, Maureen, heeding Jesus' call to "go out and teach all people," ministered as Director of Religious Education and Faith Formation in the Dioceses of Omaha, Nebraska, Anchorage, Alaska, Harrisburg, Pennsylvania and Springfield, Illinois.
The Gospel message was alive and active calling forth a vibrant faith response from her varied community groups.
Health issues brought Maureen back to New York for 8 years during which she taught Religious Education at Our Lady of Victory, Floral Park.  Once healed and hearty she returned to her
beloved Notre Dame Parish in Omaha, Nebraska to serve for
5 years as part of the Religious Education Team.
Tagged as by her companions as the "Religious on the Road Nun", Maureen could regale a crowd with her rich, sacred and often colorful stories of the holy and good people she encountered.
The heart of Maureen's life beat clearly and powerfully in her ministry as a Master Teacher of teachers in the field of Religious Education.
Post Omaha, Maureen became an active part of the local community at Sacred Heart Convent, Hempstead.  Visions of Maureen motoring around the Academy/Convent grounds
donned in her infamous pea cap abound.  All on campus certainly knew who she was as she eagerly engaged students, faculty and staff alike in lively conversation.  She was passionate about her opinion and no topic was off limits.
That same engagement and her refusal to let physical ailments slow her down characterized Maureen's life in her time spent
in Maria Regina Residence and St. Joseph Convent.
To meet Maureen was an encounter to remember.  She had an infectious smile and a big, booming laugh.  An avid lover of ice cream, she never missed an opportunity to celebrate.
Recently Maureen shared that the happiest years of her religious life were spent here in St. Joseph Convent with the most selfless,
caring, prayerful people, she'd ever encountered inclusive of sisters, staff and most especially her aides.  She experienced special joy and deep peace in the sisters with whom she lived especially her dining room table companions.
Maureen's morning 'check in' at the front desk in the main hall brought smiles and good humor to all.  Brentwood had truly
become her home,  a place where she felt valued and an important part of the CSJ community she loved.  She cherished the magnificence of our Brentwood property that spoke of the grandeur and awe of a loving God and she made many a trip on her trusty scooter to soak in its beauty.
Maureen was fiercely proud to be a Sister of St. Joseph and spoke with great fondness and gratitude of her varied ministries.
Maureen's fruitful, colorful years of community and ministry as a Sister of St. Joseph can be summed up in the familiar words of the song "My Way, one she often referred to as "God's Way" for her ~
" I've lived a life that's full
I traveled each and every highway
And more, much than this
I did it my way."
And yes, Maureen, we pray in gratitude that God's way guided you for 70 wonderful years of creatively living out your YES as a Sister of St. Joseph.
Your final act of donating your body for scientific research and education speaks loudly to us all.
May your vibrant spirit bless us as we continue to live lives that are courageous, prayerful and compassionate.
Sister Maureen Rosarita Heegan, CSJ, the former Sister Jeromita, died on August 27, 2022 in the 70th year of her religious life.