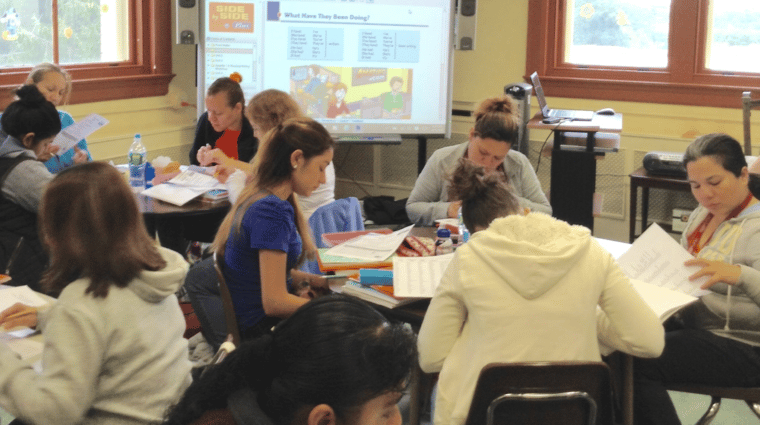 MISSION
The Learning Connection is committed to the empowerment of women and girls through education. Specifically, The Learning Connection aims to provide the tools for the empowerment of women who are undereducated, lack a high school diploma, or speak languages other than English
THE LEARNING CONNECTION FOR ADULT EDUCATION
Since 1994 The CSJ Learning Connection for Adult Education, Inc., a sponsored ministry of the Sisters of St. Joseph, has been serving the educational needs of immigrant women in the Brentwood, Long Island, NY area. In affiliation with the Brentwood Public School District, English as a New Language is the focus of the curriculum, as these newcomers learn how to speak English and adjust to society in the United States. Additional classes are provided in basic literacy and for those seeking to earn the High School Equivalency diploma.
Through grants and the generosity of benefactors, the Learning Connection is well equipped with computers and SmartBoards for class instruction. In addition, a children's library enhances the learning of English since mothers can borrow books to bring home to read to their children after they practice reading the books in class. In this way, family literacy skills are enhanced.
During the year workshops are provided in such areas as women's health, nutrition, financial literacy, immigration issues and home and personal safety.
The staff consists of teachers from the school district and volunteers, many of whom are retired teachers. Participants attend class five days a week, Monday through Friday, from 9:30 A.M. until 12:30 P.M. There is a nominal registration fee and the classes are funded through the New York State Adult Education budget. Registration takes place twice a year, in September and January.
CONTACT INFORMATION
The Learning Connection
1725 Brentwood Road, Building 2
Brentwood, NY 11717
631-951-4783
csjtlc@optonline.net