Mary Louis Students Study Robotics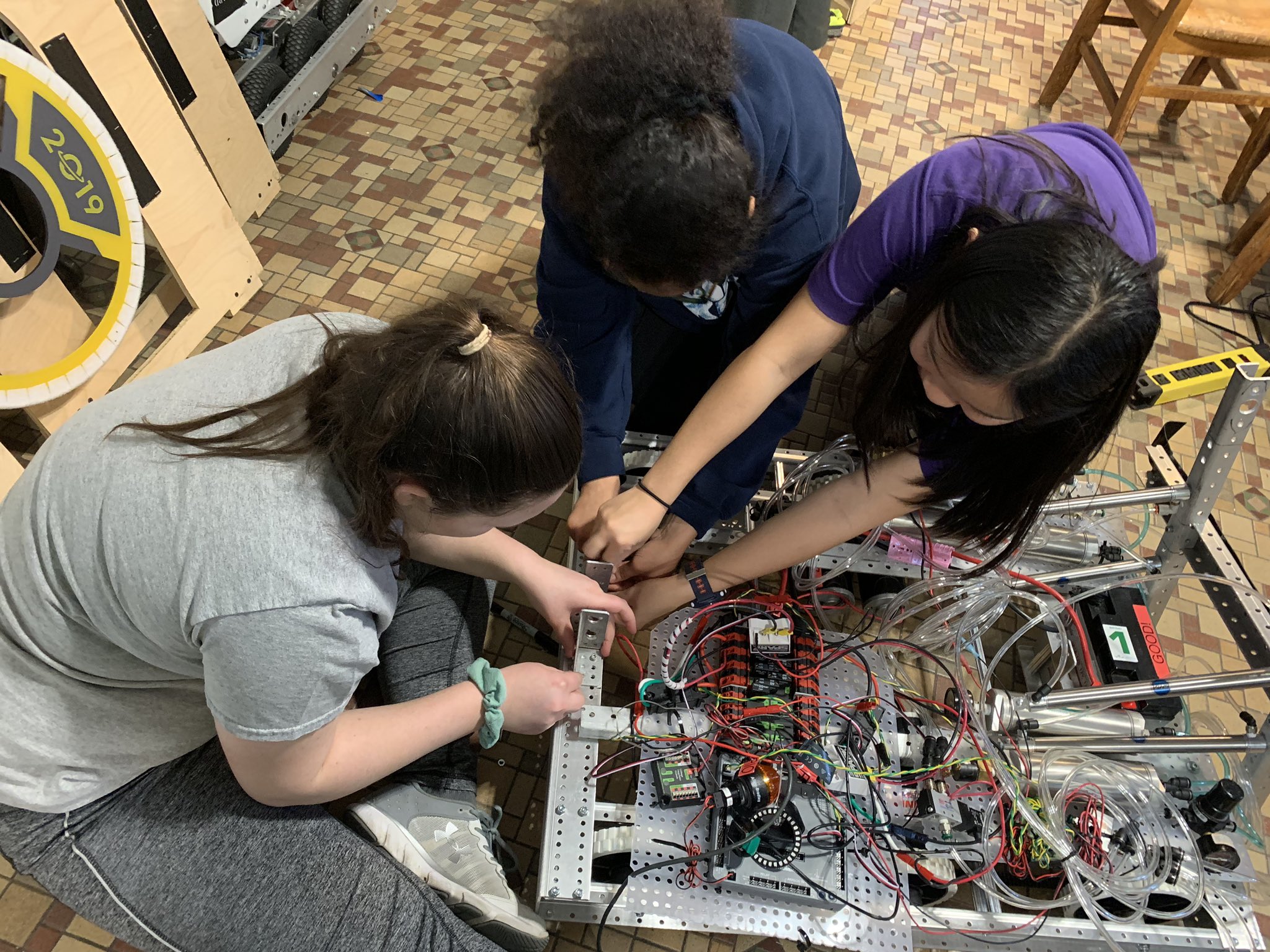 The Mary Louis Robotics team was initiated in September 2009 by TMLA alumna Kathy Rutherford '79, a retired engineer.In 2010, the team was part of an alliance that won the 2010 New York City Regional contest and was able to moveon to the FRC Championship, held in Atlanta, Georgia. TMLA's FRC 3204 robotics team has been competing continuously since then. It 3204 has turned a fun team program into a successful competitive program. TMLA is the only all-girls school with a Robotics Team in New York State, and one of only two all-girls teams in New York City.
The Engineering Lab has all the tools needed to build a competitive robot for the competition. This includes but is not limited to:
3D printers
a laser wood-etcher
wood-working and metal-working machines
CNC machines.
TMLA's robotics team: the Steampunk Penguins; includes young women from all 4 years. Together the students design, build, test, and program robots. They apply real-world math and science concepts, research challenges facing today's scientists, and learn critical thinking, team-building, and presentation skills for competitive tournaments.
Recent Competitions and Awards:
APRIL 2022
The Steampunk Penguins, competed in the FIRST Robotics Competition for the first time since 2019 and won the Jack Kamen Imagery Award for 2022. The robot and our team's theme were based on the 6888th Battalion that helped to sort and deliver mail quickly and efficiently to boost soldier morale during the war.
April 2019
On April 6th and 7th, 2019 TMLA competed in the New York City FIRST Robotics Regional Competition. The Steampunk Penguins won the prestigious FIRST Jack Kamen Imagery Award for incorporating the theme of "Women in Space". This award celebrates attractiveness in engineering and outstanding visual aesthetic integration of machine and team appearance. The team referenced the recent female NASA recruits as well as "Sally Ride", who was proudly emblazoned on their robot and team buttons.