Sister Marie Mackey Offers Home and Community to Young People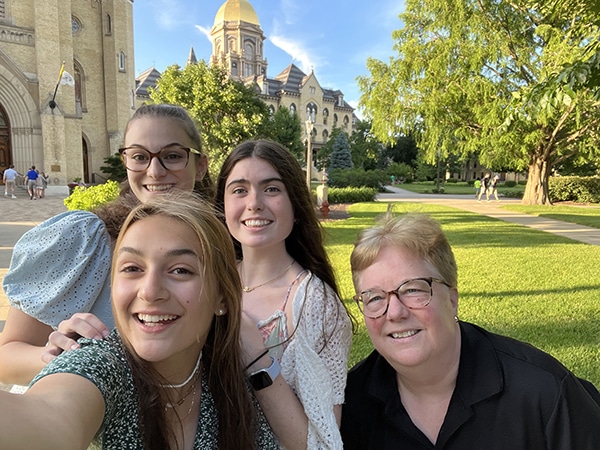 CLINTON HILL — When she was a child, Sister Marie Mackey, CSJ, watched "The Flying Nun," the 1960s comedy series with Sally Field portraying a novice who is able to take flight when the wind hits her cornette just so. But Sister Marie's life as a woman religious bears no resemblance to the show, and not just because she doesn't fly through the air.
Sister Marie, who will mark the 25th anniversary of her vows next year, also doesn't wear a cornette, or a habit, for that matter.
"I think there are a lot of stereotypes that linger," she said. "When people think of sisters, they think of quiet, docile women in habits living cloistered lives. In the United States, 80% of women religious communities do not wear habits."
"There are hundreds of religious communities in the U.S. chartered by Rome, and they're all different," she added.

Sister Marie takes stereotypes about women religious head-on and works to build a better understanding of the work that she and other members of her religious order, the Congregation of the Sisters of St. Joseph of Brentwood, do day in and day out.
For example, the living arrangements of sisters are often misunderstood, she said.
"I'll bring something up in conversation, and people will say, 'Wait a minute, you pay rent to the pastor?' They think that the money that they've been putting in the collection plate supports the sisters," she said. "I have to explain that my community as well as the Amityville Dominicans and the School Sisters of Notre Dame are active, apostolic religious, and have to work to earn a living."
"There are nuns out there buying apartment buildings and renovating and creating housing for women who've left prison. There's just really so much going on," she added.
Sister Marie is one of those sisters providing housing — not for former inmates but for young people just starting out in life.
In 2020, Sister Marie and Sister Nancy Gilchriest, SSND, of the School Sisters of Notre Dame, established Christus Vivit Community House, named in honor of Pope Francis' 2019 apostolic exhortation on vocations and engaging young adults in the church.
The house, located on the Passionists Monastery campus in Jamaica Estates, is home to young adults — female and male — who are discerning their futures.
"It's good that young people can come together for fellowship, prayer, a meal, and an opportunity to gather with other young people in fellowship," explained Sister Marie, who also lives in the house.
Much of her life has been spent in education. She holds two Master's Degrees — one in English secondary education from Queens College and the other in theology from the seminary of the Immaculate Conception.
She is currently the director of campus ministry at St. Joseph's University in Brooklyn. Over the years, she has taught at schools in the Diocese of Brooklyn, like St. Francis Prep, The Mary Louis Academy, and the since-closed Bishop Kearney High School.
Sister Marie, who took her vows at age 36, is excitedly looking forward to her 25th anniversary next year. She admitted that it wasn't always a given she would enter religious life. But in some ways, there was an air of inevitability to it.
"I was never thinking about it," she recalled. However, she also remembered, "My family had nuns and priests over to dinner all the time."
She grew up in Ozone Park, was a parishioner of Nativity of the Blessed Virgin Mary Church, and went to Catholic schools, including The Mary Louis Academy.
At St Joseph's College (now university), she met several Sisters of St. Joseph of Brentwood and was impressed not only by their dedication to education but by their independence.
"I saw women who were intellectually gifted, who had a real feel and passion for what they were doing. And they also had other ministries. Some of them were doctors, nurses, and lawyers. So, there was a lot of flexibility in the community, which I would say still exists today," she said.
Still, she postponed any big decisions. "I had gotten two master's degrees before I entered. I was pursuing my own life," she explained.
Meanwhile, the possibility of entering the religious order kept coming back. She finally committed, took her vows, and never regretted it.
Soure: The Tablet
Author: Paula Katinas
July 28, 2022
Click to read full article